Driveways East Kilbride
Driveways Glasgow provide a driveway design and construction service to the East Kilbride area.
With such a huge range of materials suitable for driveways, it can be a confusing issue choosing the right one. With several years experience, we will be happy to advise you on the best material for your driveway, but here is their quick guide to the materials available;
 

Advantages

Disadvantages

Gravel or other loose materials

An affordable option that is cheap to lay in the first instance. It also requires less hard material in the preparation stage. Many driveways have benefitted from the aesthetically pleasing look of a gravel drive.

Needs regularly topping up
Does need some care and attention e.g. weeding

Paving, slabs and flags

This is a popular material for driveways and when laid correctly, last for a long time and look fabulous! Paving stones are no longer just the grey we associate with pavements – customers can choose from a range of colours and sizes. Mixing both colour and size means that the stones can be laid in pleasing patterns. Paved driveways complete the appeal of any property.

Need to be laid correctly, with appropriate 'foundations' created so that the flags etc. do not crack or lift
Little maintenance may be required

Bricks

These are the smaller paving stones, that resemble brick and many older style properties benefit from the aesthetic appeal of this material. They tend to be laid in a herringbone pattern.

Can take a very long time to lay – the larger the area, the longer it will take...
They can be fiddly to lay accurately
They also need to be laid completely level

Cobbles

This material gives a decadent feel to many driveways and fit particularly well in landscaped garden and with older, period properties.

Can be slippy and treacherous underfoot in wet conditions

Solid surfaces - concrete, tarmac and aggregates

Solid materials are popular as they are affordable and durable. When used and poured correctly, these materials can create a good looking driveway

Can look 'basic'
Although 'easy' to work with, getting it wrong will not leave you with a decent, useable driveway
There are many new materials coming on to the market regularly, and contact a specialist contractor such as Driveways Glasgow will reward any customer with impartial, specialist advice.
One new product for example is the laying of open cell blocks, an innovation that allows grass to grow through the matting. This is a green product that allows for better control of rainwater runoff – in other words, water is absorbed back into the ground.
Contact Us
Please contact Driveways Glasgow for more information on our services. The company offers FREE estimates, consultation and advice.
> More on Monoblock Driveways

LATEST BLOG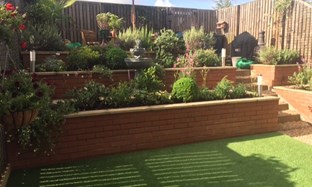 Garden walls can be a great addition to any landscaping project. …

SHOWROOM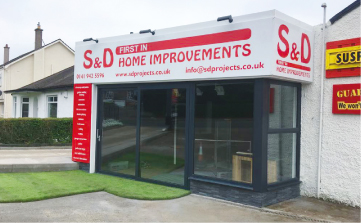 BEARSDEN SHOWROOM