Monoblock Driveways East Kilbride
Driveways Glasgow provide a monoblock driveway service to the East Kilbride area.
Monoblock driveways perfect for all properties
Monoblock driveways are a great way to add extra zing to the exterior appeal of any house or business premises. There is something incredibly satisfying about the way that monoblocks fit together to give clean lines and a smooth finish to a driveway.
What are monoblocks?
Monoblocks are similar to bricks in shape and size. They come in a variety of colours, and there are various qualities of mono blocks too. Higher quality blocks will have the colour running through it, whilst cheaper blocks will have a top layer of colour, securely attached to a block of concrete or similar material.
In most cases, the quality is sufficient to give a great finish when it comes to lower priced blocks but for a truly great finish, always get the best your budget will allow.
NB – the correct installation of the blocks, with under layers and foundations is key to longevity. Don't be tempted to forgo some of the layers of sand and drainage or monoblock driveways at properties will not last long.
Why opt for them?
Looks – at the top of the list is the way that a monoblock driveways looks once completed. From herringbone patterns to more complex, customised designs, you can create a delightful looking but also functional driveway.
Finish – the finish is second to none. High quality monoblock driveways at properties will hold their colour or colours for a long time. They will also remain a flat and functional driveway for years to come but in order for this to be the case, installation needs to be correct. If drainage is not considered, the foundation can become waterlogged, causing the driveway to sink.
Robust and long-lasting – the better quality monoblock used, the more robust and long-lasting the driveway will be. Again, this longevity also relies on the correct foundation layers being in place.
Create your own design – monoblocks come in a range of colours meaning the opportunities to create a customised design is almost endless…
DIY or professional installation? – the installation of monoblock driveways at properties won't take as long as you think, especially when a professional company installs it. For DIY-ers, the task will take much longer. You also want to be sure that the foundation layers are also correct because, as mentioned previously, water draining too fast or too slow through these sub-layers can cause damage to the top layer of the driveway.
With so many benefits, why wouldn't you opt for a monoblock driveway?
» View our gallery for examples of our completed driveway projects.
Contact Us
Please contact Driveways Glasgow for more information on our driveway services. The company offers FREE estimates, consultation and advice.

LATEST BLOG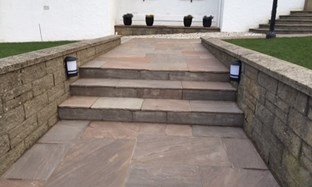 Having a garden that's on different levels is always a bit of a c…

SHOWROOM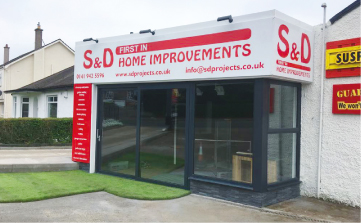 BEARSDEN SHOWROOM