Driveways Eaglesham
Driveways Glasgow provide a driveway design and construction service to the Eaglesham area.
What does your driveway say about your property?
"Never judge a books by its cover"
But, when someone approaches properties, what messages do the cracks, puddles and ruts say about the property? This is an important consideration not just for your own gratification every time you come home, but if you are trying to sell your property, then it really does become very important.
When potential buyers approach your home, there are several things that you can do to increase kerb appeal – make sure the bins are out the way, and not overflowing. The garden, tidy and well planted; children's toys away and everything looking tidy. But you can't gloss over the driveway…
Think you needs an update?
Firstly, you need to know where your driveway starts – usually the council are responsible for the pavement or road that directly joins your driveway, with your responsibility starting from where this council boundary meets yours. Re-surface the council owned road or pavement and it could be money wasted if the local authority come along and dig it up.
For some people, the walk from pavement to the front door over the driveway is a short one; for other properties, this is a longer walk but whichever it is, this walk will speak volumes as to what people could find inside the property. Think of your property through the eyes of your potential buyers.
Sounds a daft question but, what do you use it for?
Some people will say parking the family car, whilst for other people it is more of an outdoor space, where the children play, a 'front yard' almost. Customers want their driveways to start their stories, just like the manicured edges of their landscape gardens show their tastes, or the children outdoor climbing sets tell the story of their young family.
What do you want your driveway to say?
To create the right impression, the materials used in individual driveways needs to be the right one; so what are the choices?
Concrete – hard wearing and no longer dull and boring, opportunities to create unique patterns are now a distinct possibility
Brick – creates a pristine look, with regular patterns becoming a firm favourite of many customers
Block paving – again choices of sizes and patterns are increasing
Asphalt – a firm favourite that gives a clean, crisp appearance
Gravel – the colour options, sizes and shapes are making this an ever-increasing favourite
One final note: drainage
This is important so before you think about creating a driveway as get the drainage wrong (or if it is non-existent) then you driveway will slip and slide within months.
Why not contact Driveways Glasgow for advice? You could have the most delightful driveway, which will cost you less than you think.
Contact Us
Please contact Driveways Glasgow for more information on our services. The company offers FREE estimates, consultation and advice.
> More on Monoblock Driveways

LATEST BLOG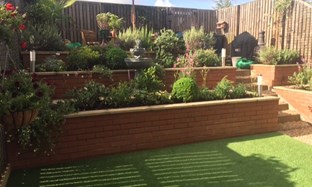 Garden walls can be a great addition to any landscaping project. …

SHOWROOM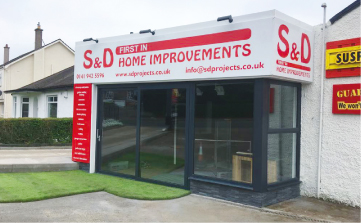 BEARSDEN SHOWROOM