Monoblock Driveways Eaglesham
Driveways Glasgow provide a monoblock driveway service to the Eaglesham area.
Your questions on the installation of monoblock driveways at Eaglesham properties, answered!
If you are considering a new driveway, you will have many options to consider. Monoblock driveways are perfect for Eaglesham properties but don't take our work for it! Read through these frequently asled questions and then give us a call…
Are monoblock driveways expensive?
When it comes to driveways, we think of it as an investment and one that you don't want to be making every few years. In other words, invest in a high quality product, and it will last the test of time.
Having said that, we think you will be pleasantly surprised at how cost-effective an investment a monoblock driveway is. Don't forget that these blocks can be used with other materials too. If you want to create a monoblock centre piece, then this is a possibility and then concrete used around the outer fringe.
Do monoblock driveways suit every property?
We think they do, yes!
The beauty of monoblocks is that they can be the star of the show, creating a driveway with the wow factor, or they can blend into the background and be in a supporting role in the hard landscape of your garden and property.
What are monoblocks?
They are blocks that are laid individually in your chosen pattern, giving you a great pattern and finish. There are a range of manufacturers and qualities, some with the colour that is apparent all the way through the block, and some that have a surface block attached to a sub-layer of block material.
Will a driveway of this kind last a long time?
If laid correctly and with the best block your budget can stretch too, your driveway will last for years to come. It is important to note that the foundation of the driveway needs to be built correctly as the one aspect that can cause problems is drainage.
If rainwater is allowed to pool on the surface or even drains away too fast into the ground beneath, it can cause the top layer of monoblocks to shift. Using a professional driveway company will negate any issues with foundations and drainage.
How can I find out more?
For answers to all your questions about monoblock driveways – and other driveways too – why not give us a call? With a no obligation quote, you will soon have a much better idea of how your property can benefit from a monoblock driveway!
» View our gallery for examples of our completed driveway projects.
Contact Us
Please contact Driveways Glasgow for more information on our driveway services. The company offers FREE estimates, consultation and advice.

LATEST BLOG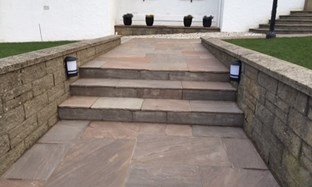 Having a garden that's on different levels is always a bit of a c…

SHOWROOM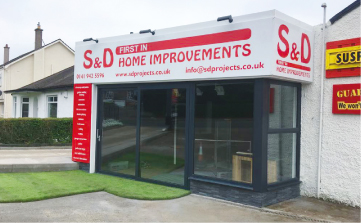 BEARSDEN SHOWROOM