Driveways Coatbridge
Driveways Glasgow provide a driveway design and construction service to the Coatbridge area.
Environmentally friendly driveways – ring the changes!
According to various sources and data, the average monthly rainfall in Coatbridge is around 40mm; this is fairly constant through the year, only rising slightly in the winter months.
Water is important; according to climate change experts, sea levels are rising and yet, despite this alleged abundance of water, we are being told to conserve water as we face droughts. Add to this already confusing mix of opinions and scientific data, we are told that our choices of materials in gardens and construction is forcing too much rain water runoff.
Runoff – what is it?
Those customers planning new or re-surfaced driveways will become familiar with this term as it is now an important consideration in many a construction project, including driveways!
Runoff is the term used to describe where rainwater goes when it hits the earth. Driveways at any property are rarely completely flat – if they are you will notice puddles of rainwater accumulating on the surface; eventually, these puddle will 'eat away' at the surface and so runoff of rainwater (and other water) is important.
Traditionally with runoff…
Rainwater has always been encouraged to leave our properties and driveways as quickly as possible, with a 'path' created from our properties to the nearest drainage system. This way, our properties are protected from puddles of water, issues with damp etc.
The modern day need for runoff…
However, today, rainwater is viewed very differently. And it seems out traditional penchant for getting rid of water into the drains is causing us problems. If your driveway or property was not standing where it is, the rainwater would seep into the ground, draining away as part of the natural water table.
However, our channelling of water into drains effectively creates a 'bottle neck'. With heavy rainfall – something else that climate experts suggest we start getting used to! – there is a larger volume of runoff water attempting to access a few entry point to the sewers.
What is now being done?
We are all being encouraged to be more environmentally friendly, looking after the planet as a whole as well as the small part of it on which we live.
Driveways need to be permeable; in other words, instead of funnelling rainwater runoff into the drains, we allow some if not all, of this rainwater to soak through into the water table below.
And there are exciting new materials and designs to do this!
ANY homeowner who is looking to either recreate or re-surface their driveway will need to know that in order to continue without planning permission, the materials they use need to be permeable. If you are not intending on using such material, with rainwater runoff spilling in to the drains, you will need planning permission.
But, we think once you see the amazing materials and designs, you will see the value in environmentally friendly driveways for all properties!
Contact Us
Please contact Driveways Glasgow for more information on our services. The company offers FREE estimates, consultation and advice.
> More on Monoblock Driveways

LATEST BLOG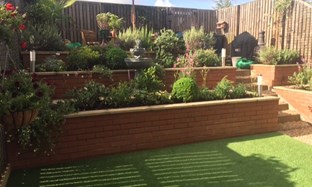 Garden walls can be a great addition to any landscaping project. …

SHOWROOM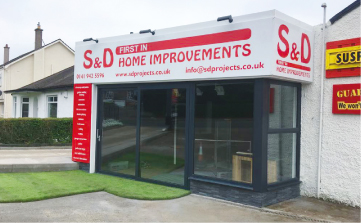 BEARSDEN SHOWROOM