Monoblock Driveways Coatbridge
Driveways Glasgow provide a monoblock driveway service to the Coatbridge area.
Why opt for monoblock driveways at Coatbridge properties?
When choosing a driveway material, there are many factors you want to keep in mind. Here we look at why monoblock driveways are proving popular at Coatbridge properties.
It is a material and finish that suit all kinds of properties
Monoblock driveways suit all kinds of Coatbridge properties, from the ultra-modern new build homes in the area to older style properties too.
This is because you can create a driveway that matches your property through both colour and the use of pattern. With professional installation, you can opt to have the driveway as the star of the show that leads the eye to the front of the property, or you can have it blend into the surrounding landscape of the garden.
Monoblocks can also be used to create garden paths and patios, with the continuity from the driveway offering a pleasing finish to the outside of your home.
Perfect for flat or sloped driveways
Not all materials work well in all situations. For example, some loose materials such as gravel are no good on a driveway that slopes. With monoblocks, you have no such worries but there is one important factor: installation.
For monoblock driveways at Coatbridge properties to be successful, they need to be laid correctly, over foundation layers that are properly constructed. All too often, with poor installation and building work, a monoblock driveway will sink or shift, leaving unfortunate 'pot hole' types features in the top layer of the drive.
This is not the look you want after spending time designing and installing your monoblock driveway. The only guaranteed way to avoid this is to use a local, reputable driveway installation company with many years of experience in installing driveways of this kind.
As well as professional installation, always use the best materials you can afford within your budget. Cheaper monblocks have a layer of colour on top of a clay brick whereas higher quality blocks have the chosen colour running all the way through. This is an important consideration in the weathering process, as well as wear and tear on the driveway.
Environmentally friendly
It is also an environmentally friendly product and with the right foundations, this type of driveway is great for reducing the risk of localised flooding.
Hard surfaces and lack of drainage lead to rainwater running off into sewers which, in a heavy downpour, can become overwhelmed leading to flooding. Some monoblock driveways in Coatbridge can be porous, leading to rainwater slowly filtering through in to the natural water table beneath.
Interested? More cost- effective than you think, call Driveway Glasgow about monoblock driveways today!
» View our gallery for examples of our completed driveway projects.
Contact Us
Please contact Driveways Glasgow for more information on our driveway services. The company offers FREE estimates, consultation and advice.

LATEST BLOG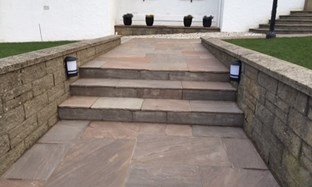 Having a garden that's on different levels is always a bit of a c…

SHOWROOM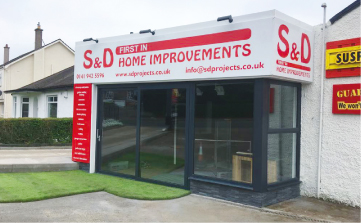 BEARSDEN SHOWROOM