Driveways Bothwell
Driveways Glasgow provide a driveway design and construction service to the Bothwell area of South Lanarkshire.
Green driveways at Scottish homes – better for you!
We hear a lot in the paper, on television and across the Internet about flooding, climate change and the like. We are all being encouraged to play our part in looking after the planet but, this starts at home.
If you are considering installing a new driveway, then there are some things you need to know, one of the most important is your choice of material.
Can you still choose any material for driveways?
In theory, yes but it comes with an additional responsibility following a rule change in 2008. If you use non-permeable materials such as concrete etc., although they offer a superb level of robustness and strength, you must show that rainwater run-off is not cascading into the road.
But why?
Localised flooding could become a real issue in the future. This tends to be temporary flooding, but is no less devastating and is caused when the volume of water attempting to enter the drain system, is too much. The water cannot be effectively channelled away and so it 'backs up'; what starts as a deep puddle gradually builds to become what is known as 'localised flooding'. Destroying roads, lifting pavements and flooding properties, localised flooding causes delays on the road and just general chaos and mayhem.
Scientists have suggested that our love on non-permeable materials has contributed, but not necessarily caused this problem. And so, a change in regulations occurred in 2008 to encourage people to use permeable materials for driveways in Bothwell and beyond.
Innovation
The need and importance of making sure that water filters through the water table is also driving innovation. Manufacturers have also realised the importance they play in ensuring that customers have a growing range of permeable materials and options to choose from.
Permeable pavers, paving stones that look, feel and act like the non-permeable varieties we are used to, are now available. These allow the water to soak through, letting it filter away through the water table.
Preventing water run-off from cascading down the road and entering the sewer system will help in the fight against localised flooding but, there are other things you can do too.
Landscaping and planting
Driveways need to look good, but also be at the height of functionality. From providing a smooth, flat surface to park vehicles on to providing a 'platform' on which children can pay safely.
Designing driveways that are functional, yet ecologically practical too, is something that we do… would you like to know more?
Contact Us
Please contact Driveways Glasgow for more information on our services. The company offers FREE estimates, consultation and advice.

LATEST BLOG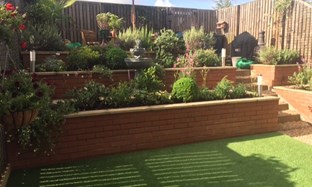 Garden walls can be a great addition to any landscaping project. …

SHOWROOM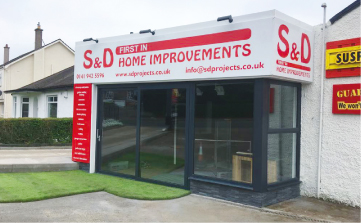 BEARSDEN SHOWROOM