Driveways South Lanarkshire
Driveways Glasgow provide a driveway design and construction service to the South Lanarkshire area.
Green, environmentally friendly driveways at South Lanarkshire properties
For many people, the opportunity to create parking space in the front of their home is a chance too good to miss. With on-street parking becoming scarce in many towns across the country, creative driveway at South Lanarkshire properties seems the ideal solution.
However, it is important to note that if your driveway will be over 5m², then you will need to use permeable or porous material, even if you are replacing the top layer of an existing driveway.
This is not hard to do. The idea is to encourage as much water as possible to drain into the ground, rather than be channelled away into the sewers.
So what are the permeable surfaces options for driveways at South Lanarkshire homes (and businesses too)?
Gravel
Top of the list is gravel. With the correct foundations, this material makes for a great looking driveway. Pea-sized and available in various colours, gravel gives a property a certain elegance and grandeur. It also allows rainwater to slow filter through the layers, into the water table beneath.
Permeable, porous hard surfaces
Technology and manufacturing methods now mean that many hard surfaces that were once impermeable to water, are now porous allowing rain water to soak through it. However, you also need to be aware that in order for these porous hard layers to work correctly, the sub-layers beneath need to differ from the traditional hard core.
Traditional hard core with sand and silt allow the water to drain away too quickly, thus this needs to be replaced with a mixture that allows water to not only seep through slowly, but also hold water if the water table beneath is water logged.
Rain gardens
These have gained momentum in the US but have yet to make a real impression on the UK market. But a rain garden is a depression close to the driveway that allows rainwater to seep into. They can hold a generous amount of rainwater and so in a deluge, the rainwater is channelled away from the driveway, and is allowed to collect in the depression.
Much like a pond that drains away over time, there are all kinds of ways that the rain garden can be decorated, to make it look more pond like.
Wheel tracks
Driveways at South Lanarkshire homes can also be wheel tracks, which means that two tracks are made from hard materials, and the rest either gravelled or plants allowed to grow on the bare soil.
What will the driveway at your  home look like?
Contact Us
Please contact Driveways Glasgow for more information on our driveway services. The company offers FREE estimates, consultation and advice.

LATEST BLOG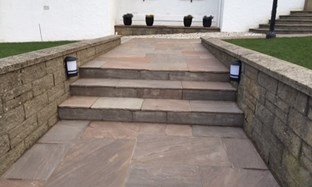 Having a garden that's on different levels is always a bit of a c…

SHOWROOM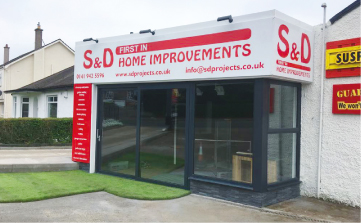 BEARSDEN SHOWROOM