Driveways Bearsden
Driveways Glasgow provide a driveway design and construction service to the Bearsden area of East Dunbartonshire.
Is your driveway in need of an upgrade?
Take a long, hard look at the driveway – what does it say about your property? Does it do your home justice or is it starting to look tired and jaded?
Why are driveways important?
Your driveway is an important aspect of your home, even more so if you looking to sell your property. It adds a certain amount of kerb appeal; in other words, a well-laid and well-maintained driveway will boost your property in the selling ranks; a welcome boost in when the property market is sluggish.
But more important than creating a wow factor, is making sure the driveway material you opt for is suitable for the use your driveway. If it is a case of driving a small car on and off a couple of times a day, your choice of material may be different from another property that has two or three vehicles, using the driveway on a more frequent basis.
Choose the best material for your driveway
No two driveways are the same; their shape and size will differ and so a material that may be expensive might be a reachable goal is the driveway is small. Consider the following materials...
GRASS – not the top of everyone's list as it can soon disintegrate into potholes and bring mud into the house. However, in this modern age of ecological concerns, many homeowners are opting for this 'natural look'. Laid correctly, it can be a hardy driveway.
GRAVEL – the crème de la crème of driveway materials if you like and probably the most expensive. However, it is perfect for adding not only grandeur to driveways but also natural drainage. If you have a steeply sloping drive, then gravel is not the best material as the majority will end up on the pavement when it rains...
ASPHALT – an incredibly cost-effective driveway material for any property and it requires very little maintenance but there is one thing you need to keep an eye on. Grease or oil stains will 'eat' into the asphalt, causing it to split etc. As soon as you notice any staining, get the power washer out. Construction is important with a minimum thickness of 3mm being the advised thickness.
CONCRETE – not everyone's favourite material for driveways but one of the strongest, most versatile materials out there. With colour pigments and patterns now able to be added, the overall effect is now very different from the grey 'slab' look of yesteryear. Will last for decades but keep it clean, and use a concrete sealant on it every now and then, just to keep it looking in tip top condition.
PAVING & BLOCKS – if you fancy making a statement with the driveway to your property, look no further than these two materials. Beware, art comes at a price and these materials are best laid by professionals such as Driveways Glasgow. The 'foundations' need to be just right and care needs to be taken; expect your drive to be out of action for a few days (depending on size) while the job is completed properly.
If your driveway is in need of an upgrade, we offer top quality customer service, perfect workmanship and a competitive quote!
Contact Us
Please contact Driveways Glasgow for more information on our services. The company offers FREE estimates, consultation and advice.

LATEST BLOG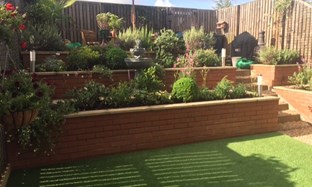 Garden walls can be a great addition to any landscaping project. …

SHOWROOM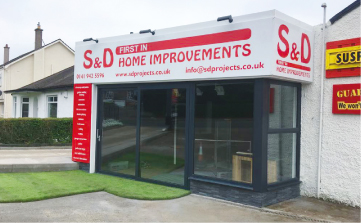 BEARSDEN SHOWROOM