Driveways East Dunbartonshire
Driveways Glasgow provide a driveway design and construction service to the East Dunbartonshire area.
Designing effective and useful driveways
The driveway is a functional addition to any property – or, at least it should be. Unfortunately, many people think that laying their own driveway is easily done and take on the task as a DIY one. This can lead to all kinds of mistakes, as well as wasted cash.
From shooing the wrong materials, to not getting the drainage right, some driveways at East Dunbartonshire properties tend to list, subside or cause drainage problems elsewhere on the property.
You can void these mistakes by calling in the professional services of a company like ours. There are some new and interesting ideas coming to the market all the time.
Is drainage an issue?
Some people feel that a driveway may not be suitable at their property due to drainage issues. If you think your garden always seems to be wet and muddy in winter, adding a huge slab of concrete at the front of the house may be the last thing you want to do.
Some people also feel that driveways at East Dunbartonshire properties that are at the bottom of an incline could also suffer from poor or inadequate drainage.
There is a solution – a rain water garden.
What is a rain water garden?
This is a popular addition to many properties in America but has yet to make headway in the UK. In fact, we are only just beginning to understand the benefits of a rain water garden at our properties.
Basically, this is where a 'holding area' is built next to or close by the driveway and the exterior of your property. Think of it as a bath with an ill-fitting plug – the water may not run away too quickly, but more slowly seep away.
This is perfect for dealing with drainage issues. The water table is not flooded and overwhelmed but more has a trickle of water constantly running through it. Experts suggest this is a great way of preventing localised flooding too.
It also attracts all kinds of small wildlife into the garden, as well as providing a basis for some interesting plant life.
Easy to create – part of your driveway project?
Rain water gardens are not too difficult or complex to create and can be a great answer to difficult areas within the garden, or in certain areas too.
Why not call us not just about the possibility of a rain water garden, but having a new driveway designed at your property?
Contact Us
Please contact Driveways Glasgow for more information on our driveway services in East Dunbartonshire. The company offers FREE estimates, consultation and advice.

LATEST BLOG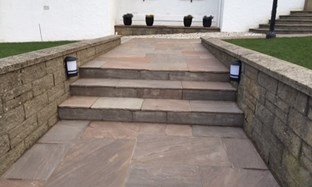 Having a garden that's on different levels is always a bit of a c…

SHOWROOM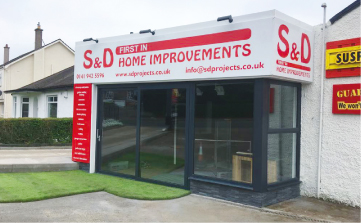 BEARSDEN SHOWROOM