Driveways Airdrie
Driveways Glasgow provide a driveway design and installation service to the Airdrie area.
Creating driveways for properties that are functional and unique…
Driveways are not always considered unique; in fact, most of the time property owners approach their creation or re-surfacing with one eye on the budget and the other on functionality.
However, times are changing are there are many different designs and options for you to choose from:
Materials – there are all kinds of materials that make effective surfaces for driveways from concrete to paving stones. And, as you can imagine, the manufacturing processes involved have also changed in the last few years, making once expensive materials available within any budget.
Take the example of concrete…
Once considered boring and grey, concrete also has a reputation of being environmentally unfriendly. To a certain extent, this remains true today – the processes used to create concrete does have an impact on the environment although advocates of the material will tell you that once made and in place, it offers one of the most robust and durable driveways.
But, concrete is changing; customers can now opt to have dye added to the mix giving the concrete a faint colour. Freshly laid concrete can also be 'stamped' with a series of patterns too, creating what looks like a paved driveway, for example, but at a fraction of the cost. And, to top it all off, concrete has become permeable, allowing rainwater to seep through into the water table rather than in to the main sewers.
Lighting – driveways do need to be functional, without a doubt but they don't have to be boring. Lighting is a functional addition but can be incredibly useful on dark nights and evenings. If you are having a driveway created or re-laid, why not consider adding lights?
Afraid of the running cost? Not surprising considering how much the cost of electricity has increased in recent years but there are always solutions. For example, solar power lighting has come on a long way since the days of a weak, single bulb barely throwing out any light at all. And, lights can be on sensors too so, as the sensor detects a movement or a break in its connection with another sensor, the lights flicker on, guiding you and your vehicle to safely park.
Landscaping – and finally, although a clean, minimalist driveway may suit one property, it may not suit yours. You may find the clean lines of an empty, yet well-constructed driveway too 'clinical', preferring to soften the edged with planting.
But even the trend for landscaping driveways is changing; with one eye on drainage and the environment, customers are choosing to have hardy plants in small pockets of planting at various points in the driveway. A grassy strip or verge is not uncommon, with hardy alpine plants interspersed for colour throughout the year.
Driveways can add visual value; how will your create you perfect vision?
Contact Us
Please contact Driveways Glasgow for more information on our services. The company offers FREE estimates, consultation and advice.
> More on Monoblock Driveways

LATEST BLOG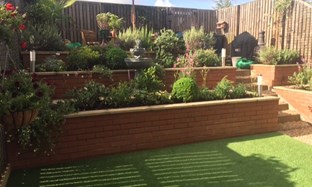 Garden walls can be a great addition to any landscaping project. …

SHOWROOM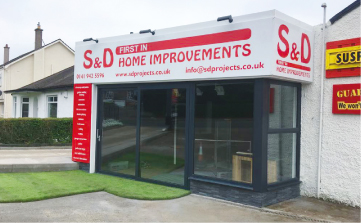 BEARSDEN SHOWROOM