Monoblock Driveways Airdrie
Driveways Glasgow provide a monoblock driveway service to the Airdrie area.
Why customers are opting for monoblock driveways
The monoblock driveway is gaining favour with homeowners, and no surprise when you consider the benefits of using this material offers…
Looks
First and foremost, when it comes to your driveway you want something stylish and in keeping with your property. Monoblock driveway at Airdrie properties offer all kinds of versatility. You can opt to have the whole driveway in this design or, you can marry it with other material. For a modern and environmentally friendly twist, why not use low growing, hardy, alpine plants in sections on the driveway? Great for improving drainage.
Finish
Frankly, of all the materials you can choose for a driveway, we think this is one of the best. You can create all kinds of finishes for your property which we think it great news if you want something different, quirky or traditional.
It also lasts for a long time, one of the main reasons why customers invest in monoblock driveways at their Airdrie homes. When laid correctly and with the right foundations, you can create an amazing finish that with last for years to come.
Customisable
Again, of all the materials you can choose, we love the way that monoblock driveways are one of the most customisable. You can opt for one colour in one pattern, or you can choose all kinds of colours and have them laid in a pattern or design of your choice.
Colour
Monoblocks are available in various 'natural' colours, such as the deep red of brick of the light yellow of sandstone. Some people also opt for black or why not mix and match the colours.
The better quality monoblock brick, the better the colour reproduction is. In other words, the colour filters all the way through the block which means that as the weather wears away the blocks over the coming years and decades, the colour doesn't fade.
Minimal maintenance
Who wants to spend any length of time weeding the driveway? Very few people and this is why you need a monoblock driveway laid by a professional. This leaves very little gap between the block for weeds to take hold. And, this material is also easily cleaned with a pressure washer, all you need to keep it clean and pristine looking.
Professional monoblock driveways in Airdrie
If you are looking for an excellent finish on a bespoke monoblock driveway, look no further as you have reached a leading and reputable driveway company who can offer you just that! Call Driveway Glasgow today.
» View our gallery for examples of our completed driveway projects.
Contact Us
Please contact Driveways Glasgow for more information on our driveway services. The company offers FREE estimates, consultation and advice.

LATEST BLOG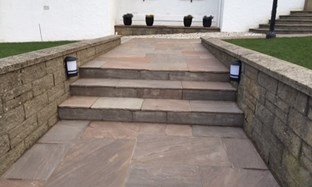 Having a garden that's on different levels is always a bit of a c…

SHOWROOM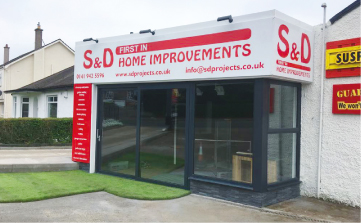 BEARSDEN SHOWROOM