Patios Paisley
Driveways Glasgow provide a patio design and installation service to the Paisley area.
Patios – perfect outdoor spaces
Decking is a great way of adding much needed extra space in awkward areas of the garden – they can be built above slopes, adding valuable extra square metres to your garden. Patios are similar to decking, except they sit flush, either on the ground or only slightly raised off the ground. A well design patio, using the right materials can be a brilliant, functional addition to your garden – and home.
Commonly used materials
Before you decide on the material to use for your patio, you first need to objectively think about –
How or what your patio will be used for? Will it be a combination of activities, such as a children's play area, a relaxing space as well as a BBQ or entertaining space?
How big will the patio area be? This will impact on cost and you may find for a larger patio area for your Paisley garden that the cost of using some materials can be prohibitive.
What shape will your patio be? Gone are the days when it was a rectangular grey slab of concrete that was use simply as a functional piece of garden! Many homeowners are now realising that the materials they use of their patio, means it blends into their garden as well as with the overall look of their home.
STONE – a natural option
The use of natural stone flags as a patio can creates an overall stunning effect and for some homeowners, this is the perfect patio material. As it is a natural product, stone wears well against the rigours of both weather and footfall but it can present an uneven surface, which for some is a distinct disadvantage. Likewise, it can also be one of the most expensive materials for use in a patio and working with it can also be heavy work, for those not used to manual labour!
FLAGS – manufactured from concrete
Not as boring as you think, as they now come in a range of sizes and colours – no longer will the finished product be flags laid out in a uniform 'pattern' but, you can now created an interesting pattern, with gaps in between flags if desired, with gravel being used as a filler. However, if a paving slab dos crack all you need to do is replace that flag – and not the entire patio. Far more cost-effective than natural stone, it also offers a smooth walking surface. Laid correctly, this type of patio will also stand the test of time!
CONCRETE – be creative!
No longer is boring grey in colour, there is now the possibility of colouring concrete as it is mixed and there is also the additional possibility of adding a pattern as the concrete is laid. Concrete is also an incredibly cost-effective patio material to use although it is best left to the professionals,. The mixture needs to be correct as does the drainage from the patio; if these key components are not correct, your concrete patio will not last. Maintenance is minimal, although it will benefit from a power-wash before the summer BBQ season.
TILES – a possible option
If you are looking to create a distinctive patio area at your property, then ceramic or porcelain tiles could be an option worth considering. However, we are back at the expensive end of the market as the tiles themselves can be expensive and with such an investment in the material itself, it is probably best left to the professionals to create the foundations and lay the tiles. But, be warned, tiles can be incredibly slippery underfoot and are not recommended where children play.
Creating a patio at your property is an exciting time – select the right material and engage the services of professionals such as Driveway Glasgow, and you will have a beautiful patio that will fit perfectly with your home and your lifestyle.
Contact Us
Please contact Driveways Glasgow for more information on our patio services. The company offers FREE estimates, consultation and advice.

LATEST BLOG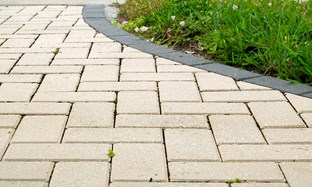 Your driveway creates that first impression for anyone visiting y…

SHOWROOM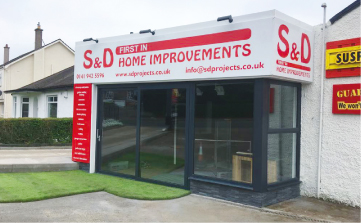 BEARSDEN SHOWROOM