Patios Newton Mearns
Design the perfect patio
Patios were, at one time, were all the rage. The 1970s saw them blossom to fill many a dark, unusable corner of Newton Mearns gardens, being perfect places for children to play and for the adults to sit, enjoying a balmy summer evening.
They were square block of concrete that, after the vagaries of winter, became cracked and puddle ridden concrete platforms that people no longer used. In fact, many people still think that the definition of patios is a large, concrete slab.
This is no longer the case. Fashion and design have moved on and, with the array materials now available the days of option for a square piece of concrete outside your French windows or your back door have now been banished.
The humble patio has stepped up in the world.
Design the perfect patio for your Newton Mearns property…
WHERE to put it?
Deciding where to put it depends on how you use your garden and what you want the patio for. If you want it to sit and relax, then placing it in the 'stream of traffic' in your garden is not the best option. Take a look at your garden and observe how people use it, where the 'paths' are etc.
MEASURE the space
Before you opt for a huge patio, check you have the capacity the accommodate it; likewise, patios that are too small will be next to useless in your Newton Mearns garden. It is at this point you also want to check if there are any changes in level in your garden that will need dealing with as part of the re-landscaping of your garden; this will add cost to the overall design.
DESIGN it!
Patios do not have to conform to any shape or style. It was easier to pour concrete into a nice rectangle but, with so many different materials and finishes on offer, you can have rectangles, squares, semi-circular or uneven shaped patios for your Newton Mearns garden.
BUDGET
Clearly, the more intricate your design, the more it will add to the cost but many customers are seeing their patio choices as investments so that they can enjoy the patio for many years to come. What will impact on budget will be the material you opt for.
MAINTAIN it
The patio, like your driveway, will need some form of maintenance and, depending on your choice of material some will need more TLC than others. Wooden decking will need staining or painting frequently to keep it weather proof, and concrete patios will need a good blast with a power-washer every now and then to keep it stain free.
ASSECORISE it…
Finally, once it is completed, accessorise your patio with pot plants, beautiful furniture and lighting and then use it; let the children play in a safe environment and then use it to relax in an evening, entertaining friends or relaxing with a good book and a glass of wine.
Patios can liven up any landscape and so take your time to get the right patio for you!
Contact Us
Please contact Driveways Glasgow for more information on our patio services. The company offers FREE estimates, consultation and advice.

LATEST BLOG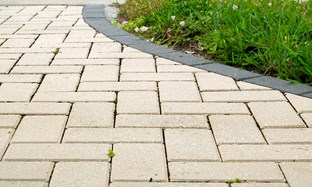 Your driveway creates that first impression for anyone visiting y…

SHOWROOM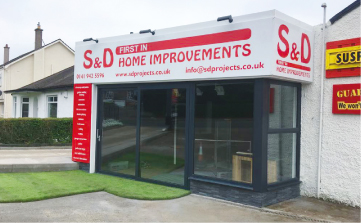 BEARSDEN SHOWROOM