Patios Motherwell
Driveways Glasow provides a full patio supply and installation service to the Motherwell area.
Not just a slab of concrete…
But, unless you plan, design and create the type of patio you need and want, you may find that the addition to the garden that you make will not be fit for purpose!
Here at Driveways Glasgow, we have successfully created patios for customers of all shapes and sizes but, they all had one thing in common: there were various factors taken into account before the foundations were dug.
And here are some of the questions and variables you need to answer…
What you going to use it for?
Many people can look a little quizzical at this question but patios across Motherwell are used for different things. Are you going to use the patio for socialising and entertaining? Or, is it a place that you envisage the children playing on or, will it be the platform where you eat around a large garden dining table?
Understanding how you see you and your family using the patio goes on to dictate these other variables…
Size – on one hand, you don't want a patio that swallows the garden BUT, you need it to be big enough to be useful. Patios in gardens that are too small are effectively not fit for purpose. If the whole family cannot use it at the same time, what is the point? And so we suggest taking time to decide how big you want and need the patio to be… and then adding a couple of feet extra, if you can spare the room in the garden
Shape – many customers assume that patios can only follow a prescribed shape, in most cases rectangular or square. Some people think that creating a circular patio will be difficult but, patios for Motherwell gardens can quite literally, be any shape you want. It can follow a series of interlocking shapes or be created to fit within a certain shaped space. Of course, creating bespoke patios will have a direct impact on the budget but, if you intend on only doing once, then do it properly we say!
Material – and now you come to the choice of materials which, for many, can seem a huge decision to make. You can choose from creating a delightful patio from brick, pavers or concrete (all of which are permeable, meaning that your garden benefits from rainfall without turning into a bog!). You can also create interesting, focal points such as small planting spaces or areas of gravel.
How are you going to dress it up?!
And once your patio is in situ, you can now create a luscious, delightful and relaxing place to sit, socialise and play… will you add lighting?
Contact Us
Please contact Driveways Glasgow for more information on our patio services. The company offers FREE estimates, consultation and advice.

LATEST BLOG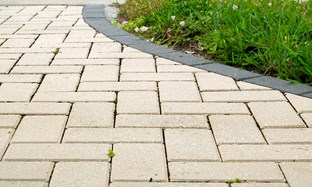 Your driveway creates that first impression for anyone visiting y…

SHOWROOM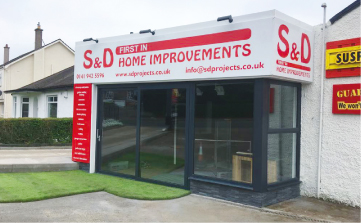 BEARSDEN SHOWROOM