Patios Kirkintilloch
Patios at Kirkintilloch gardens – make them part of an on-trend garden!
There are many trends in gardening and landscaping, just like there are in terms of interior décor.
The garden – a place to live, play and work
Gone are the days when the garden was manicured to within an inch of its life, and the same goes for patios at Kirkintilloch gardens too.
The trends for a more relaxed, soft approach and when incorporating a hard-landscaped space and addition such as a patio, you need to be conscious of attempting to ensure the soft landscaped garden around it subsumes it.
There are many on-trend ways to do this…
Mini meadows – wild life will appreciate a mini-meadow. Give a small portion of your garden over to all those kind of plants that you would normally see as weeds but wild life love; nettles, for example, are a great place for ladybirds to munch on green fly, and birds will love eating all this insects… and so it goes on. You start your mini-meadow off by planting various plants and leave the rest to nature.
Aromatic plants – adding sweet scent to your patio is a great way of creating a relaxing space too; again, the use of aromatic plants is a great way of your patio being absorbed in the garden.
Staining and colour
The current garden trend thinking is that the garish colours of pink, yellow, green and blue stains have had their day for now.
The colour that adds drama is black and you can introduce this by staining a pergola that you could have built to provide much needed shade. You may think of black as a dull colour but, it is one of the best colours to provide a back drop for plants and greenery.
Get in to scale and proportion
Patios in Kirkintilloch gardens need to be to scale; too big and they take over, too small and they are not functional or useful.
The golden rule of deciding on the size of your patio is to consider what it is you will use it for; if it is a private small space for relaxing or meditating, then a smaller patio may work. For those who have plans to party on it from summer days to summer nights, then you may need to upscale your plans.
A versatile space, ripe for accessories and fun
Patios at Kirkintilloch homes should be a welcome, wonderful addition that can be brilliant in creating platform for family and friends to enjoy the garden. Plant well, and enjoy the whole experience!
Contact Us
Please contact Driveways Glasgow for more information on our patio services. The company offers FREE estimates, consultation and advice.

LATEST BLOG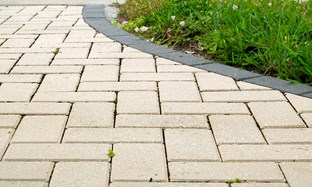 Your driveway creates that first impression for anyone visiting y…

SHOWROOM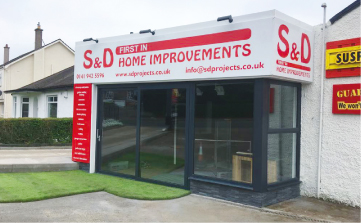 BEARSDEN SHOWROOM