Patios Hamilton
Why choose slate patios for Hamilton properties?
Investing in a patio is a great way of opening your garden, and being able to use it for so many different things – from a place that is safe and stable for children to play, and for a space to entertain.
Materials
There is a bewildering choice of materials for the construction of patios for Hamilton properties; it can seem an impossible choice! They all, of course, have pros and cons in terms of style, finish and budget but there is a material that is becoming increasingly popular… slate.
Why choose slate?
Attractiveness
If nothing else, slate is surely one of the most naturally attractive materials for patios at Hamilton properties. Smooth and cool to the touch, slate is unique; no two pieces will be the same. Formed by a combination of water and various materials compressed by the earth, slate turns dark purple in the rain and with shards of light colours running through it, no two slate patios at Hamilton properties will be exactly the same.
Strength
Used as a roofing material for centuries, slate has 'roofed the world', without trouble or compromise for a long, long time. Slate slabs for patios at Hamilton properties will do exactly the same. Despite the erosive power of water, it takes far longer for rainwater to make any kind of dent on slate; only after years and years of rain will the texture of slate show any sign of change; and then, it will only be a small amount.
Also, this strength is matched by the fact that when wet, slate rarely has a slippery quality, meaning that underfoot non-slip…
…BUT, if you do not have a strong, solid base on which these slate tiles can rest, then the strength of the whole patio is compromised.
Low (or no) maintenance
Slate patios at Hamilton properties are also perfect for those homeowners who have no inclination or time to spend on maintaining their patio. A quick clean every now and then does not go amiss, but apart from that, slate patios are things of beauty and excellence. But again, just to emphasise, the base on which the slabs are laid needs to be solid and sound; a dodgy foundation means a dodgy top layer.
Sizes
Slate slabs comes in a variety of sizes and so not only does the finish of the slate vary from patio to patio, the patterns that can be created can also be just as varied and unique.
Slate patios at Hamilton properties will last the test of time; they will stand up to the weather (both heat, rain and cold), as well as being trampled underfoot by partying adults and playing children. Have you considered slate for your patio?
Contact Us
Please contact Driveways Glasgow for more information on our patio services. The company offers FREE estimates, consultation and advice.

LATEST BLOG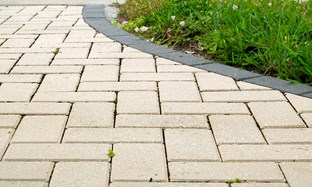 Your driveway creates that first impression for anyone visiting y…

SHOWROOM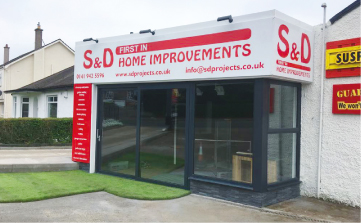 BEARSDEN SHOWROOM