Patios East Kilbride
Driveways Glasgow provide a patio design and installation service to the East Kilbride area.
Adding a patio to improve your garden
Many patios give hours of pleasure as well as valuable outdoor space for any family. A well-built patio can also add visual appeal to your property – an advantage if you are looking to sell your home.
Design it!
Before you start buying materials, you need to design and plan your patio. The amount of materials you will need will depend on the size and shape of the patio that you are planning to build. When deciding on the size and shape, you will need to consider what you are using it for. For example, what size is your outdoor furniture? Do you want it as a play space for the children too?
Don't forget, that patio heaters and other accessories mean that you can now enjoy your patio all year round
Patio materials
Choose wisely and you will have a patio that will last a long time. There are many materials for use to build such as:
Stone patios – these are expensive but durable materials for any patio and include materials such as slate, granite and limestone.
Reclaimed material – in the age of recycle and reuse, many patios have been created using reclaimed materials from old streets, garden or properties undergoing renovation. With vision and the correct foundations, such a patio can look stunning.
Concrete flags – this is the most affordable option. They are quick and easy to install, available in a range of sizes, colours and textured finish.
Solid concrete – although this again is a cheap option many customers do not opt for this material as it can look basic, and not as attractive. However, with furniture and potted plants etc., colour and interest can soon be added.
Build it!
Now that you have designed it and chosen your material, all you need to do now is build it! This can involve a lot of hard work as well as skill, energy and time.
Although laying your new patio yourself may save you money, you need to consider in the long run if this will be the case. A badly laid patio, with an incorrect foundation will not last a harsh winter or summer. For example, flags will 'buckle', causing the flag to break. All too soon, a badly laid patio will soon become unusable and ugly.
Maintain it!
Many patios will need some level of maintenance to keep them useable through the year for you and your family. Paving stones and flags, for example, may need weeds removing from in between each flag and some patio materials may need to be power-washed from time to time to keep them clean, as well as aesthetically pleasing.
Contact Us
Please contact Driveways Glasgow for more information on our patio services. The company offers FREE estimates, consultation and advice.

LATEST BLOG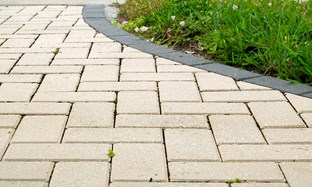 Your driveway creates that first impression for anyone visiting y…

SHOWROOM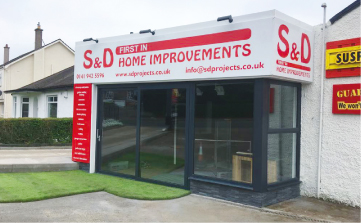 BEARSDEN SHOWROOM