Patios Cambuslang
Driveways Glasgow provide a patio design and installation service to the Cambuslang area.
Enjoy the outdoors with a new patio!
We do not always see the sun for long in this country and so when it does shine, we should be out in the garden, soaking up its warmth. But, for many homeowners, the garden is a tumble of weeds, a lawn with bald patches and children's toys. With more and more gardens being taken over by monster trampolines, it time to reclaim some of the garden – and one brilliant, inexpensive way of doing this is a patio.
Design you perfect patio is simpler than you think...
Where are you going to put it?
Think about the surrounding land etc. that border your garden. If you have close neighbours, will you want the patio in a more secluded, private spot? We find that customers often assume that a patio follows the 1970s design of the grey slab that you step on to straight from your back door. This is no longer the case. The patio can be situated anywhere in your garden, with a dainty path or stepping stones leading to it. Site your patio where you will get the best use out of it.
1. Take a look at how you and your family use the garden
How does the 'traffic' of people flow from one area to another? Are there areas that people avoid? Could this be utilised?
2. Get the tape measure out, paper and a pencil
Measure the area where you are wanting to patio to sit. What size are you looking at? And the big question – will it be big enough?
3. What are you going to use it for?
This will help determine the size of patio you will need (as well as possible helping you decide the best materials to build it with). If you are thinking of entertaining on it, then you may need a bigger space than you thought. It is is a safe area for children to play or for you to relax this takes the pressure off building a large patio
4. Don't let it be a square, dull blob in the garden
Patios across the country are often just left as just that – a grey, dull blob made from concrete that sits full, puddle laden and forgotten at the end of the garden. Concrete is not the problem; it is the lack of design features and planting around the patio that lets it down. Think beyond just creating the patio space; how will it be finished?
Think about it and then design it!
Patios can be any shape and size but it is the finish that creates the space. What about a small, gravel border around the edge? Have you considered adding a wooden frame for climbing plants?
Clever planting can really add to the ambience and final patio product. Fragrant planting is one such option. Adding lighting is another option too meaning you can enjoy your patio of an evening. Imagine unwinding at the end of a long day, glass of wine in hand with the fragrance of plants and flowers mingling all around you...?
Sounds heavenly! Turn your dream into a reality and start to enjoy your garden again.
Contact Us
Please contact Driveways Glasgow for more information on our patio services. The company offers FREE estimates, consultation and advice.

LATEST BLOG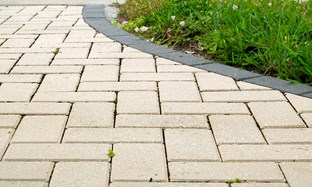 Your driveway creates that first impression for anyone visiting y…

SHOWROOM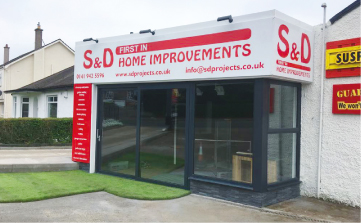 BEARSDEN SHOWROOM