Patios Bishopbriggs
Thinks patios are dull, grey squares…
Think again! There is an increasing trend to marry the interior of a home with the exterior. No longer are there boundaries separating the inside with the outside; family life flows between the two, seamlessly and without effort.
Well-designed patios at Bishopbriggs properties can bring so many benefits but you need to make sure you create the right space that is functional and delightful stylish… and here's how:
Don't think square or rectangle – think shapes and curves! If you are looking for an informal space, different mix of shapes and curves are a great way of relaxing the sharp, formal lines. Ditch the 90° angles and think sweeping circles and semi-circles…
Don't forget about accessories and don't be frightened to 'zone' areas. For example, heat in the cooler evenings need not be from the artificial and potentially ozone-damaging gas heaters but from fire pits. Why not integrate a pit into the patio in one area? Or maybe you will be opting for a spa at some point?
Personality and space – the two new buzzwords when it comes to creating great patios for Bishopbriggs properties. Think accessories and zones – a place to sit and relax, maybe another zone to cook and eat, all connecting and spacious.
Use plants not just for colour, but for aroma and privacy too. We are not all blessed with acres of green fields surrounding our property and so, rather than just fencing, why not take a look at planting climbing plants? There are some delightful plants that can soften he edges and when brushed up against them, release the most delightful of perfumed scent.
And lights, camera, action! Patios at Bishopbriggs properties can benefit from one small, yet essential addition – but it often forgotten about until too late – lights! Soft lighting, rather than football-pitch brightness, either from solar energy or from installed, safe-for-the-outdoors mains electricity.
Water is soothing and a pond or waterfall nearby adds a certain delightful sound to patios in Bishopbriggs… or, if water is not your thing or its addition will cause safety issues with small children around, take some time to think about the music that nature can provide. The soft caressing of a summer's day breeze on the wind chime can provide a musical backdrop.
Or, if you plan on entertaining, adding music to the area is a great way of creating a party, social atmosphere.
And finally don't forget the furniture. There are so many options, from the modern take on the traditional deck chair to the new, outdoor sofas. Brighten the space with bright coloured cushions and how about investing in a new outdoor rug?
Patios at Bishopbriggs properties can add so much, so bring the outside in with a delightful space.
Contact Us
Please contact Driveways Glasgow for more information on our patio services. The company offers FREE estimates, consultation and advice.

LATEST BLOG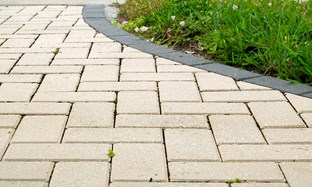 Your driveway creates that first impression for anyone visiting y…

SHOWROOM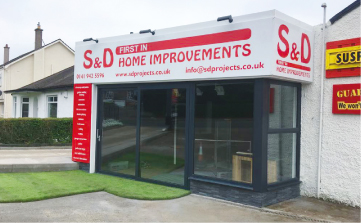 BEARSDEN SHOWROOM