Patios Airdrie
Driveways Glasgow provide a patio design and construction service to the Airdrie area.
Designing perfect patios for Airdrie properties…
The perfect patio is relatively simple to come by… when you know how, and here in lies the issue; if you have no idea how to go about planning the perfect patio, how on earth will you be left with the patio you need and want for you, your family and your home?
There are several factors to consider…
Size – the first factor when considering patios for Airdrie gardens is to decide on size. Your budget will play a part in this as sometimes, the bigger the patio (depending on material) the bigger the final bill but, the rub is that creating one too small, akin to a postage stamp, will be less than useless.
But, in terms of size you also need to consider scale; if you have a large garden, a large patio will not necessarily be lost but, too small a garden with too large a patio and it becomes a 'back yard'. Don't swallow too much of your garden with a patio.
Big enough for what you need… and a bit extra!
However, patios at Airdrie properties need to be functional; they need to be large enough to entertain family and friends, without consuming the garden. And so the question you do need to consider when deciding on size and scale is this:
WHAT do you plan on using the patio for?
For those looking to entertain with BBQs and the like, your patio will need to be sizeable enough to accommodate the BBQ and other essential items.  If, however, your plan is to sit back, relax and enjoy the sunshine and warmth of summer, then you could opt for a small patio.
It all comes down to taste and, it is your decision entirely…
Shape – don't think that patios at Airdrie properties need to be square or rectangular, for this is a fallacy. With all the different materials available (why not ting us to find out more?), you can create all kinds of shapes, regular or irregular.
Patios at Airdrie properties are only really limited by imagination and budget; with a professional company creating your patio, you do not have to worry about having the right skills or tools to create the final product.
Why not search online for inspiration, and take a look at some of the 'interlocking' shapes that other homeowners have used to create patios that make their gardens far more useable and functional?
Accessorise – and finally, your patio can be accessorised to just how YOU want it, creating a unique spot in your garden with your personality stamped all over it! From the addition of a pergola, to a wide open space, with delicate planting to soften the harsh edges, patios are Airdrie properties are perfection in themselves.
What shape and creation will yours be?
Contact Us
Please contact Driveways Glasgow for more information on our patio services. The company offers FREE estimates, consultation and advice.

LATEST BLOG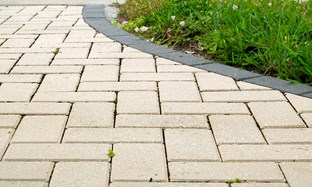 Your driveway creates that first impression for anyone visiting y…

SHOWROOM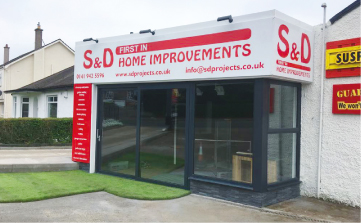 BEARSDEN SHOWROOM