Monoblock Driveways Wishaw
Driveways Glasgow provide a monoblock driveway service to the Wishaw area.
Are monoblock driveways worth the time and money?
There are many questions you will want to ask about driveways, from the best materials to use to the correct way to install them. With monoblock driveways at Wishaw properties becoming popular, you may be wondering if it is the right choice for your home too.
Do monoblock driveways suit all properties?
Monoblocks are a diverse material that suit a wide range of properties, from the stately country pile to a modern build, and everything in-between.
The beauty of monoblock driveways is their versatility, making them a material that looks great in a diverse range of applications.
There are a range of colours so you can choose one that either blends with the exterior colour and look of your home or you can create a driveway with a finish that is unique.
Monoblock driveways at Wishaw homes can be laid in all kinds of patterns, using a range of colours too. Robust and visually appealing, monoblock driveway are increasing in popularity.
Do monoblock driveways add value?
A well-laid and appealing driveway will certainly add kerb appeal, but monoblock driveways can also add value.
This is not only down to the way they look but also to the fact that each brick or block is of the highest quality. This means that the driveway will look good for a long time, but also boasts a robustness that other materials can only aim for.
What will make a difference is whether the driveway is installed professionally or not.
Why monoblocks?
Monoblock driveways offer a flat surface on which you can park your car and so on. They last for many, many years and neither do you need to spend hours maintaining them so that they pristine.
DIY or professional installation – which is best?
The foundation layer beneath the monoblocks must be perfect. This is important not only for providing a stable bed on which the blocks will sit, but also for drainage. The biggest enemy of any driveway material is rainwater.
Pools of water sitting on the driveway surface will, over time, erode the layer of material beneath. Poor drainage in the foundations leads to the driveway dipping in places, meaning you lose the delightful flat surface.
Monoblock driveways can, if you have the time and the tools, as well as the skills and know-how, be laid as part of a DIY project. However, with a specialist driveway company such as Driveways Glasgow completing the installation to a high standard and at a fraction of the cost, why would you do it yourself?
» View our gallery for examples of our completed driveway projects.
Contact Us
Please contact Driveways Glasgow for more information on our driveway services in Kingspark. The company offers FREE estimates, consultation and advice.

LATEST BLOG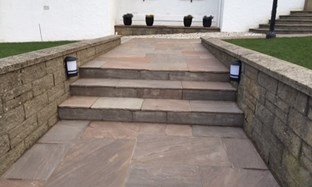 Having a garden that's on different levels is always a bit of a c…

SHOWROOM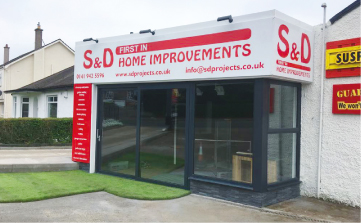 BEARSDEN SHOWROOM