Monoblock Driveways Kilmarnock
Driveways Glasgow provide a monoblock driveway service to the Kilmarnock area.
Why are monoblock driveways in Kilmarnock so popular?
The driveway is an important asset for your home. It is the first thing that people see thus, it is part of creating an overall impression of your home that is favourable. But monoblock driveways at Kilmarnock home bring so much more.
#1 Longevity
When you invest in a new driveway, you want it to last for many years to come.
There are many factors that impact on how long a driveway lasts from the material itself to the correct foundations.
You also need a driveway that can withstand all kinds of weather and Monobloc driveways in Kilmarnock can do just that and still look simply fabulous.
#2 High quality material
Monoblocks are a high-quality material. Some blocks are more expensive than others. For example, some block has the colour running all the way through them so that if the top layer is worn away, rather than patches of grey coming through, the colour remains.
Cheaper blocks have a clay block with a colour layer on top and can be much cheaper. However, the quality of the colour may not be so great although they seem to last a long time too.
#3 Create your own design and pattern
Your driveway should complement your property and sometimes, the best of doing this is to have an ornate driveway that looks stunning.
There are a range of colours when it comes to monoblocks which means you can create your own design. For example, some homeowners choose to define pathways with a run of different coloured blocks.
It is also possible to lay the monoblocks in different ways to create pleasant patterns and a stunning effect, perfect for adding kerb appeal to your home.
#4 The right impression
When homeowners spend time and money on creating monoblock driveways at their Kilmarnock homes, they are showing that they spend a lot of time, energy and effort, as well as money, on investing in and looking after their home.
If you are thinking of selling your home, it makes sense to invest in quality modifications that add value to your home – and this is exactly what a well laid monoblock driveway will add: appeal and value.
Are you considering a new driveway?
If you are, it makes sense to invest in a new driveway by having a local, reputable driveway specialist to create your bespoke driveway.
Contact Driveways Glasgow today and join the ranks of Kilmarnock homes with monoblock driveways.
» View our gallery for examples of our completed driveway projects.
Contact Us
Please contact Driveways Glasgow for more information on our driveway services. The company offers FREE estimates, consultation and advice.

LATEST BLOG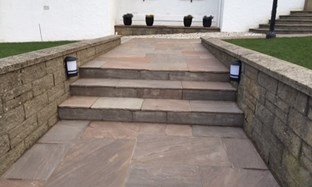 Having a garden that's on different levels is always a bit of a c…

SHOWROOM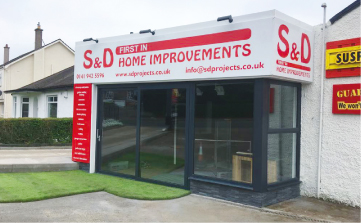 BEARSDEN SHOWROOM