Driveways Uddingston
Driveways Glasgow provide a driveway design and construction service to the Uddingston area.
Green driveways for homes and businesses
Driveways are a considerable investment of your budget but, get it right and they are worth their weight in gold!
For many homeowners, driveways offer the hard platform on which they park the family cars; for businesses, they offer a surface on which deliveries can be loaded and dropped off. They can be decorative, as well as robust and structurally sound but, there is a new consideration for people to take in to account: flooding.
Odd weather – here to stay?
It was only the start of 2014 when the country was last battered by gales and heavy rain that lasted for a long time. The ferocity of the climatic onslaught caught many people and surprise; many parts of the country were flooded, with the plains of Somerset under water for a long time.
But, flooding does not have to be an issue that is long term to cause devastating effects; flash floods and localised flooding, although temporary and can be here and gone in a flash, can flood homes and businesses, leading people bereft and frustrated.
Part of the issue is the volume of water that the main sewers are trying to cope with; when they cannot cope, localised flooding ensues. And, when the ground is saturated from previous deluges, flooding is more likely.
There are various answers as to how to combat this problem but there is one factor that all Uddingston property owners can do with their newly laid driveways… in fact, according to a new law enforced through planning across Britain, all people looking to lay new driveways must ensure that their driveway is permeable.
Which means…?
Permeable means allowing water (or gas) to pass through the material. All driveways, from October 2009, must be permeable. This means that very little rain water runs off into the main sewers or drains.
Does it have to be permeable?
If the proposed driveway is bigger than 5m² and you choose not to use a permeable material, then you will need to seek planning permission. As with all applications, there is no hard and fast rule as to what gets passed or rejected but, if you do live in an area that is susceptible to localised flooding, you may find that you are examined as to why you are not creating a 'green' driveway.
A green, permeable driveway on its own, is not enough to stop flooding BUT, it will play a part in decreasing the possibility.
There is no difference between the permeable and non-permeable materials in terms of robustness, strength and functionality – even better, permeable driveways  look just as good too!
Contact Us
Please contact Driveways Glasgow for more information on our driveway services. The company offers FREE estimates, consultation and advice.

LATEST BLOG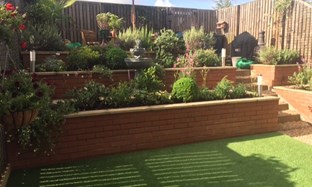 Garden walls can be a great addition to any landscaping project. …

SHOWROOM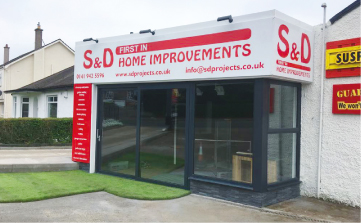 BEARSDEN SHOWROOM