Driveways Strathaven
Driveways Glasgow provide a driveway design and construction service to the Strathaven area.
Driveways – so many choices of design and material! Where do you start?
There is no doubt, the driveway at your property creates an impression. If you are looking to sell your property, then you driveway needs to be spot on. With so many companies offering driveway construction too, the time has never been better to take another look at either creating from scratch the perfect driveway or looking to refurbish your current one.
The Design
Don't hide away from the different driveway designs; the web is full of ideas from across the globe, from the incredibly lavish to the more 'every day'. Either way, you can 'borrow' ideas from any of your favourite designs from the materials used, to clever landscaping and the inclusion of lights.
But, don't forget the size of your driveway; if you are lucky enough to have room to play with, then take some time to consider the best shape if your driveway, taking into account whether you need off-road parking space, as well as a safe turning area.
The Material
There are many materials to choose from, including the more traditional driveway materials to the modern, emerging materials here in the UK. Bonded-resin is a new material, offering durability as well as a whole heap of colours and the opportunity to create some brilliant designs but, before you get carried away, consider the following…
The design of your Strathaven property – something wild and wacky may suit a modern property but might not fit so well with a traditionally styled property.
Your budget – will clearly have a big effect on your choice of material so choose the one that suits your property as well as your bank account.
The slope or terrain of driveways – an important consideration too in the choice of material as some are not suited to sloping driveways; loose material such as gravel is not the best for sloping driveways.
To DIY or not to DIY? – some people do this as a project which, if you have the time and energy, may be OK but don't under estimate the time needed to construct driveways, or the skills and tools needed either.
The Choice
How about these are material choices?
Concrete – plain and cost-effective at its simplest but with many new modern technology being applied to concrete, it can now be coloured and stamped with a pattern. Many driveways now sport this 'jazzed up' look.
Asphalt – can last for 20 years or more and is really quick and simple to lay BUT, the importance of the gravel under layer cannot be emphasised enough.
Gravel – creates a popular rustic look to driveways but again, the importance of the terrain cannot be underestimated; it may look lovely, but it is not suitable for everyone.
Paving – still a popular choice but the modern look of patterns, using different sized pavers is also popular, as is the option of textured pavers giving these slabs a thoroughly modern look.
Get your driveway perfect for your property and enjoy it for years to come!
Contact Us
Please contact Driveways Glasgow for more information on our driveway services. The company offers FREE estimates, consultation and advice.

LATEST BLOG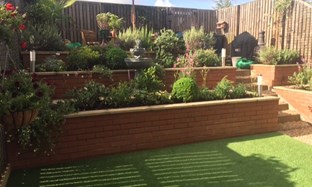 Garden walls can be a great addition to any landscaping project. …

SHOWROOM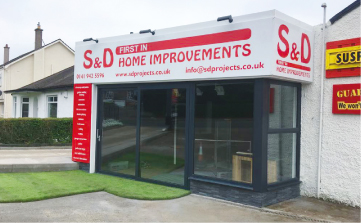 BEARSDEN SHOWROOM