Driveways Rutherglen
Driveways Glasgow provide a driveway design and construction service to the Rutherglen area.
Brilliant design ideas and materials
Driveways vary from property to property in terms of length, width, design and gradient; as a result, careful consideration needs to be given to the materials used so that the job for your property is the right one!
The design
The design is a process that needs careful consideration with a variety of factors coming in to play when it comes to the final design and shape of it. Most driveways are built using the minimal of space – a straight driveway that leads directly to either the garage or car port. Other Rutherglen properties have larger, sweeping driveways. Others may have a slight incline to them; all of these factors need careful consideration when it comes to the choice of material.
Therefore, keep in mind the following points –
Consider the design of your house and to which period it belongs as you want your driveway to complement the visual appeal of your Rutherglen home rather than detract or work against it.
Budget is a constraint and you need to work within its boundaries – choose the material that is affordable AND fits with your house design
Pay attention to the terrain and any incline to your drive – some materials do not suit a drive with a slope to it. Gravel, for example, is of no lasting use on a sloping drive as every time it rains, the gravel will be moved down the slope!
Professional installers or DIY? Some people attempt to lay their driveway themselves but, unless you are confident and skilled, this can take a long time with the end result not what you expected or want. Professional companies such as Driveway Glasgow has years of experience when it comes to laying or resurfacing driveways.
Materials
There are so many materials on the market now that choosing the right one for your driveway can seem a daunting task. Not only can that, with advances in technology, even the most run-of-the-mill materials be manipulated to create the most amazing of driveways.
Concrete no longer has to be drab, dull and grey. With various pigments and additives, concrete can take on a colour as well as be laid with an overlay pattern. This means that this cost effective material can be made to 'fit' with most Rutherglen properties.
Gravel is another favourite material that adds a classical and timeless appeal to a driveway. The satisfying crunch of gravel underfoot gives any property an air of decadence. There are various sizes and colours of gravel but be warned, this is an expensive material. However, that said, many homeowners have laid a gravel drive and then added a top layer of the desired stone size and colour on top at a later date. There is also some maintenance required – some weeding as well as making sure that occasionally it a raked for a 'smoother' appearance.
Asphalt is often considered a poor alternative driveway material, down to a mistaken belief that it is not durable. However, when laid professionally this is an effective driveway material for any property.
And finally, block paving is a popular material as it gives a stunning final finish and appeal. Once again, as with all driveways, getting this material laid correctly by a professional, experienced driveways contractor such as Driveway Glasgow will see you reap the rewards of your driveways for years to come!
Contact Us
Please contact Driveways Glasgow for more information on our services. The company offers FREE estimates, consultation and advice.

LATEST BLOG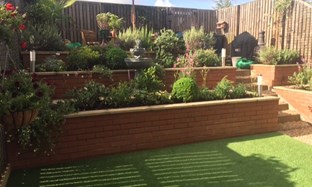 Garden walls can be a great addition to any landscaping project. …

SHOWROOM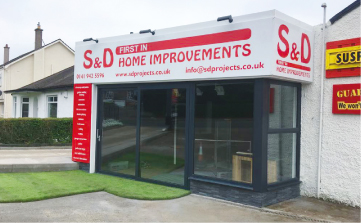 BEARSDEN SHOWROOM