Driveways Paisley
Driveways Glasgow provide a driveway design and construction service to the Paisley area.
Your driveway – does it still have kerb-appeal?
We do not often think of our driveway as offering valuable kerb-appeal to our home until it comes time to sell and move on from out property. Sometime, due to weather and sustained use, the driveway begins to break down and so we are in the positions of deciding on a new drive – what shall it be made of? Does it need re-designing? How do I know which material will work best?
With so many materials and options open to Paisley residents looking to resurface or renew their driveways, what are the pros and cons of each material?
Loose Material
These materails include such things as gravel, pebbles, shingle etc. are are usually fairly cheap to lay. They require very little in the way of a supporting foundation but, one disadvatage for some homeowners is that a gravel driveway will need regular maintenance – whether that is regular weeding or topping up with an extra layer of gravel. Neither does this loose material apprach work well on driveways that are sloped; the loose material will simply gravitate to the bottom of the slope. In terms of ECO-FRIENDLINESS, loose materials is one of the best; rainwater, rather than being siphone off towards the gutter and sewers, is allowed to permeate through the layer, sinking in to the ground beneath.
In summary – great for a flat drive and for those looking for eco-friendlt options.
Paving slabs or flags
This type of materials comes in either a natural or manufactured form, as well as in a variety of shapes and sizes. There is a huge and often bewildering amount of slabs, flags, setts and subes to choose from but it is well worth the investment of time and money, as there can be stunning results for Paisley customers looking for new driveways. However, these can be fiddly to lay and a skilled, experienced driveway firm such as Driveway Glasgow will be far more proficient and efficientin making sure th foundation is correct as well as the speed at which the driveway will take shape.
In summary – great for creating a bespoke design, but with some maintanance required along with some skill in correctly laying the driveway.
Brick or artificial blocks
An increasingly popular choice for Paisley driveways but again, due to the fiddly nature and the need for correct supporting foundation, the laying of these blocks are best left to the professionals. Without the correct underlayers, with the weight of cars along with the weather, blocks can soon lift presenting a significant trip hazard. Can be a little more expensive that slabs or pavers but worth the effort in the long run.
In summary – a stunning driveway material that will suit most Paisley driveways but maintenance required as they can attract moss and lichen etc.
Cobbles
A far more expensive option but produces fantasic results – cobbles are laid within concrete, and the mix of colours and shapes cane really enhance the look of your home BUT they are incredibly slippy unerfoot in wet weather.
In summary – not suitable for everyone but in small patches on driveways can add a significant variation in the overall effect.
Solid materials – concrete, tarmac and aggregates
These tend to be popular choices for two reasons:
They are cost-effective materials as they can be used over large areas at a fraction of the cost of some of the other materials and...
Minimal maintenance, if any at all to keep the driveway looking in pristine condition. In fact, an occassional power-wash is all that is needed to remove stains
BUT, it is essential that customers investing in new driveways within Paisley use experienced firms such as Driveways Glasgow when it comes to laying these types of materials. The foundations and underlayers need to be correct or the material will bedn, twist and eventually crack; rainwater will then seep in causing unseen problems and within only a few years, the driveway could be unuseable.
In summary – fabulous for any Paisley driveway, whether on a slop or a large or small area. Very little maintenance required and will withstand the rigorous of the Scottish climate.
Modern materials
Resin bonded and resin bound driveways are the new materials on the block and provide almost limitless design possibilities. This type of material has been extensively used in commercial settings such as the coloured material you see used in playgrounds, cycle paths, around the bases of trees in town centres etc. There are not many companies who use this material but the numbers are beginning to grow.
In summary – if you have an inner design flair,then this material for your Paisley driveway might just be the way forward. Made from recycled material it tick the 'green and eco-friendly box' and is also a material that needs very little aftercare. Great for adding flair and colour!
Contact Us
Please contact Driveways Glasgow for more information on our services. The company offers FREE estimates, consultation and advice.

LATEST BLOG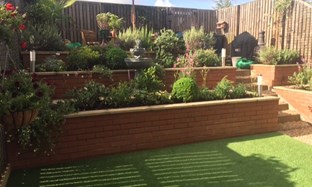 Garden walls can be a great addition to any landscaping project. …

SHOWROOM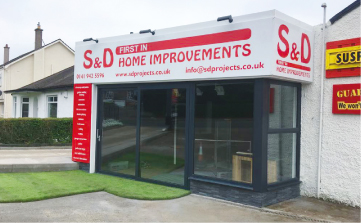 BEARSDEN SHOWROOM