Driveways North Lanarkshire
Driveways Glasgow provide a driveway design and construction service to the North Lanarkshire area.
How to create stunning driveways at your property
The driveway is a functional asset that many properties benefit from. But only if it designed and built correctly.
You may be thinking of building or re-modelling your driveway and as such, may be looking for inspiration from driveways across North Lanarkshire. Here, we summarise the main points you should be considering:
All driveways must be drainage friendly
From the 1990s, any new driveway over a certain size must be either made from permeable materials, or be built in such a way that the rainwater can soak through into the water table beneath.
There are all kinds of permeable materials available, all of which are robust and strong enough to cope with vehicles driving on and off it, as well as being parked on it.
Driveways need to have the correct foundations
There are a few layers beneath the top driveway surface – all of them perform an important role in maintaining the strength of the drive, along with the correct drainage. If the bottom layer, for example, is no compacted correctly, the driveway could start to list or dip.
The same is true is rainwater actually runs through these layers too quickly, or too slowly. The driveway may look pristine initially but it will eventually start to dip, with pot holes becoming apparent.
Driveways can be accessorised for both appeal and functionality
The best examples of driveways at North Lanarkshire properties are those that take into account how they will be used.
Lighting is important, for both security of you and your vehicles, as well a safety. By accessorising your driveway, it can be much safer to use but also more versatile too. These lights can also be solar powered too, so that the cost of running them does not become an additional burden on the household budget.
Gates and fencing too
Driveways are great for adding convenience to a property but sometimes, finishing the look is important too. Many people therefore, opt for gates and fencing that can make the driveway area even more secure.
A green driveway
There are all kinds of factors to consider when creating a driveway at your property and one is how much space you have. However, don't assume that driveways at North Lanarkshire means hard landscaping either – there are many example of green driveways that incorporate the use of hardy plants. This not only looks effective, but it great for helping drainage too.
Why not call us, to ask about driveway designs and construction at your property?
Contact Us
Please contact Driveways Glasgow for more information on our driveway services. The company offers FREE estimates, consultation and advice.

LATEST BLOG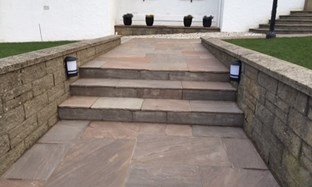 Having a garden that's on different levels is always a bit of a c…

SHOWROOM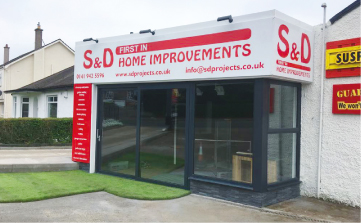 BEARSDEN SHOWROOM