Driveways Newton Mearns
Driveways Glasgow provide a driveway design and construction service to the Newton Mearns area.
Choosing driveway materials to suit your budget and property
Are you thinking of opting for a new driveway for your Newton Mearns driveway or feel that your current one is in need of an upgrade?
If so, then you have a whole range of choices and options open to you.
Is it a do-it-yourself project?
Some homeowners do take on the project themselves but unless you have some level of skill and expertise, as well as plenty of time on your hands, then getting a professional company to install your new driveway is the better option. Depending on the material you choose too, the skill level needed to work with it can also be more than a basic DIY knowledge.
Which material to use on driveways?
There are many materials to choose from but have you considered the following…?
Concrete and Asphalt
Traditionally, the choice for durable driveways has been these two materials. But customers have assumptions about both these materials and so it may be time to take a fresh look at them.
Firstly, customer assume that asphalt is black and concrete is an off white colour but in fact, technology has moved on and these two materials can now be tinted various colours (although it isn't a day-glow or luminous finish!) There are other options when it comes to concrete as it can also be stamped to create patterns to the final finish. Asphalt can also secrete oils which means that the immediate step into your property can appear stained over time, but concrete is not as resistant to stains from oil leaks etc.
Asphalt works well in… colder climates whilst concrete is the opposite. Concrete can withstand heat well but, unless it is laid correctly with the right foundations and thickness, can crack under extreme cold. Even better news is that the maintenance of both these materials is minimal and, although concrete is more expensive than asphalt; both are durable, hardwearing driveways for your Newton Mearns property.
Gravel
Other materials include gravel, an increasingly popular choice for driveways in and around Newton Mearns. Still functional, gravel will also need to be laid correctly, with the correct drainage layer underneath. However, many customers find the cost of gravel prohibitive and the amount of maintenance required (regular weeding and scrapping back 'flat') also put many homeowners off. Suitable for most driveways, gravel creates a bright and aesthetically appealing driveway that complements virtually every style of home. However, steep driveways are not suitable for this material as heavy rain will move the gravel.
Many people attempt to lay driveways at their Newton Mearns properties themselves; if you have the time and skill to do so, then this will save you installation costs but, if you fail you follow these construction guidelines you may find your pristine driveways does not last as long as you thought it would…
Contact Us
Please contact Driveways Glasgow for more information on our services. The company offers FREE estimates, consultation and advice.

LATEST BLOG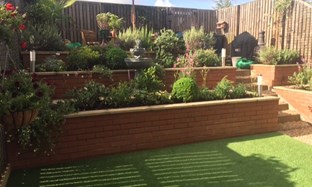 Garden walls can be a great addition to any landscaping project. …

SHOWROOM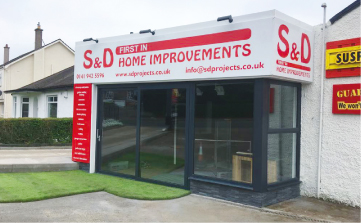 BEARSDEN SHOWROOM