Driveways Milngavie
Driveways Glasgow provide a driveway design and construction service to the Milngavie area.
What home improvement project has the biggest impact on your home?
Driveways are not the projects that many property owners think about too often and yet, the driveway to and from your property plays such a vital role:
it impacts heavily on the visual appeal of your home, important is you are attempting to sell your property
it makes the driving and walking around your property safe for you, the family and visitors
depending on the material, the effort needed to maintain it can be minimal
To help customers, we have put together this basic guide to help you choose the right material for your driveway project.
Surface type – materials for driveways can be categorised in two, either smooth surface or aggregate (a rough feeling surface) such as gravel. Here we examine the use of smooth materials for driveways, as they are favoured by many for ease of maintenance as well as for shifting debris from them…
Asphalt
The price of asphalt can fluctuate as it is linked to the cost and the production of oil; it is considered a high cost and high maintenance material, mainly as to keep it in high quality condition it needs to be re-sealed every 2 to 4 years. This additional time and money that can sometimes need to be spent on this driveway material, does not always make it a popular choice.
Concrete
Despite being costly to lay, many customers favour the use of concrete as a preferred driveway material; this is mainly due to the durability of this unique robust material and its ability to survive the harshest of climates. Many customer also feel that this is a once-in-a-long-time expenditure on their driveway; there is no need for resealing and, apart from a wash with a power hose every now and then, your drive could stay looking as good as new for a long time to come.
Jazzed up concrete driveways are becoming a popular choice; as concrete is poured it is, of course, a thick, glutinous liquid. As it dries, it can be stamped with a pattern, meaning that your concrete driveway could take on a completely different look. A trick on the eye means that your driveway could look like it has been laid from block, brick or pavers but in fact, is one large piece of concrete, stamped to look like another material!
And neither does it have to look like a big grey lump of a driveway either; stamped and stained with a different colour adds an altogether different effect.
Pavers or flags
Possibly still the most expensive driveway material option, possibly due to the labour involved but when laid correctly by a reputable and trusted driveway company such as Driveways Glasgow, this driveway can have a stunning effect, 'lifting' the visual appeal of your property.
If you are contemplating updating or replacing your driveway, visit your local experts first; call Driveways Glasgow today.
Contact Us
Please contact Driveways Glasgow for more information on our driveway services. The company offers FREE estimates, consultation and advice.

LATEST BLOG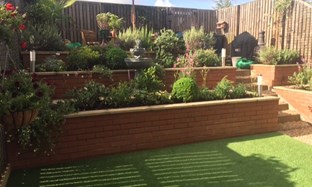 Garden walls can be a great addition to any landscaping project. …

SHOWROOM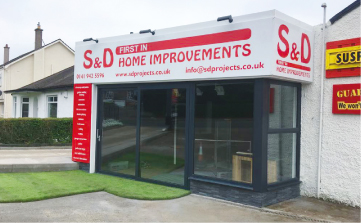 BEARSDEN SHOWROOM