Driveways Lenzie
Driveways Glasgow provide a driveway design and construction service to the Lenzie area.
Driveways – perfect in so many ways
Creating driveways is not a case of 'one size and one solution fits all'; everyone needs something different from a driveway – what do you need from yours?
What about lighting?
If your current driveway or outdoor space where you park the car or gain access to your property has no lighting, imagine the difference it could make!
Security would be improved for one thing, and the ease with which you can your driveway and entrance to your property would be vastly improved. No longer will you need to shut or open the gate in the dark, scrabble about in the car without being able to see or tentatively feel your way up or down outdoor steps; you could have great lighting to be able to see that flickers in to life when the sensors are tripped.
What about cost?
Cost of installation is not as prohibitive as you would think and, with the range of solar powered outdoor lightning now available that virtually makes the running of lights on driveways negligible.
They can also be on sensors too which means that the lighting does not have to be on all of the time, which can be useful for you but regarded as light pollution by your neighbours! Neither does lighting on driveways need to be blindingly bright; they can be set to give a welcoming, ambient glow.
Soften the edges with planting
However, driveways are hard landscaped areas and this can be a welcome look and styles for many customers.
For others however, this looks and feels too harsh; the old adage that just because something is functional does not mean that it has to be boring or plain.
Soften the edge with planting, as well as incorporating plants into the driveway is a great way of soften the hard angles and edges, and adding interest too.
But, it also has another benefit: increased and improved drainage. Rainwater run-off is a consideration for all new driveways in Lenzie since the introduction of permeable paving rules on planning permission regulations.
As far as is possible, permeable material needs to be used to create all new and replaced driveway surfaces and planting is one way of improving drainage.
Plants of course, add a colourful dimension to a driveway and alpine plants make perfect, pretty addition with just a hint of colour.
Contact Us
Please contact Driveways Glasgow for more information on our services. The company offers FREE estimates, consultation and advice.

LATEST BLOG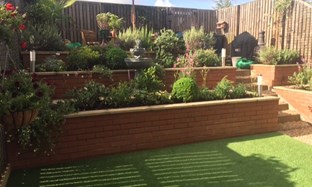 Garden walls can be a great addition to any landscaping project. …

SHOWROOM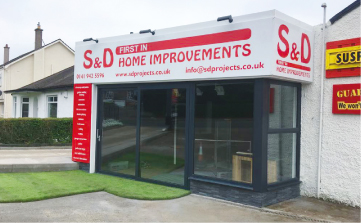 BEARSDEN SHOWROOM