Driveways Larkhall
Driveways Glasgow provide a driveway design and construction service to the Larkhall area.
Fabulous driveways for all properties
When it comes to improving your property, there are many things that you can do: add an extension, landscape the garden and so on. Not many people realise that the driveway also plays a part in creating the visual appeal a property needs, as well as adding value.
However, when it comes to designing and creating driveways, there are many quick and easy additions you can make to really make it stand out;
Lighting
Clearly, from a safety and security point of view, lighting is simply essential. But, lights also add something extra to your driveway and that is, a sense of luxury. They can be soft lighting – just enough to light your path from car to door – or they can create a real statement.
The great thing about lighting is that it no longer has to be the choice between the starkness of a flood light or the dimness of a flickering candle. Solar energy panels are now so refined and sophisticated that they can create an amazing display of lighting that is neither harsh, not too dim. They can be wall mounted lights, tall 'street lamps' or small runway lights along the edge of steps, walls and so on.
Lighting is a must have accessory that adds both functionality and a sense of opulence.
Design says it all
If you are in the fortunate position of looking to install or redesign a driveway, then you are on the cusp of an exciting project.
There are all kinds of new features that can be incorporated into driveways and one that is gathering pace is the addition of green features.
This does not mean just green plants, however! Rain water runoff has long been a problem with which constructions have battled with and, with the need for more water to be soaking naturally into the ground and not the drains, driveways could hold the key. 
Many modern-day driveways only incorporate hardstanding materials on smaller portion of the driveway. In other words, permeable concrete is used to create tracks for the vehicle, and various paths to and from the door, garage and so on. The remaining sections can be given over to hardy plants that not only enjoy shallow soil but poor quality too (if that is the case) but, these small plants make a huge difference to the drainage in a driveway.
This is truly a green drive but, for all those homeowners looking to create driveways now and in the future, thought does need to be given to the drainage. Non-permeable materials will need to be kept to a minimum and you may find that planning permission is required for the use of such materials.
However, driveways can be functional and designer – how will yours look?
Contact Us
Please contact Driveways Glasgow for more information on our services. The company offers FREE estimates, consultation and advice.

LATEST BLOG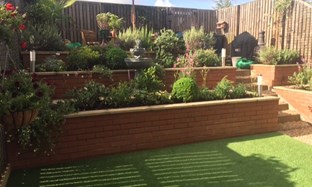 Garden walls can be a great addition to any landscaping project. …

SHOWROOM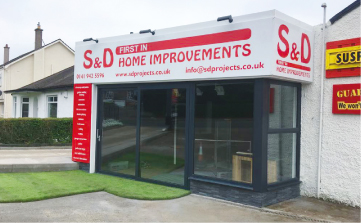 BEARSDEN SHOWROOM