Driveways Kingspark
Driveways Glasgow provide a driveway design and construction service to the Kingspark area.
Designing a new driveway – the 'rules' to bear in mind…
If you are looking to re-lay or create a new driveway, there are some factors that need to be borne in mind…
Driveways at Kingspark properties create that all important first impression and you must set the right tone, especially if you are thinking of selling your property. Choosing the right design, layout and material are the three aspects that inform this first impression
Choose the material that 'matches' your property or choose the material that does not jar against it, may be a better turn of phrase. If you have a stately-looking home, invest in a material that enhances not detracts from the exterior. However, do not think that materials are out of bounds; simply choose the material that lifts the front of your property, within the budget you can afford!
Use nature to soften the edges. In many designs, homeowners pave or concrete the whole of the front area of their property, simply because it is easier and possibly cheaper as there are no complicated curves or corners. However, this can create a stark appearance and for many, driveways for Kingspark properties of this nature is not for them. Creating small borders with plants and flowers is one way to soften the hard edges.
Drainage is an important consideration which is why laying new driveways au Kingspark properties is not always a job for DIY enthusiasts. All materials, regardless of what they are, need to have effective run-off of rain, preferably away from your property where it may pool causing issues in the longer term. Making sure the driveway is laid correctly is essential for this reason!
Foundations are important too. Again, another aspect that can shorten the life of many driveways in and around Kingspark is incorrect foundation or underlying structure. Poor drainage, inadequate run-off coupled with poor foundation work means that your driveway may undulate and slip in no time at all. Pressure of vehicles using it, along with being parked on it as well as foot traffic and the weather all contribute to weakening the driveway. You want it to be fit for purpose as well as durable and robust!
Think maintenance. For many of us, laying a driveway to the front of the property is about practicalities on two level – firstly, off street and more secure parking for car or cars and secondly, to negate the need to weed and maintain a front garden! If minimal maintenance is your goal then you will need to think carefully about material.
A popular driveway material is gravel. Renowned for its satisfying crunch under the car wheel or under foot, it does require possibly the most maintenance out of all of the driveways materials available to Kingspark customers. However, it will need levelling, topping up from time to time, sweeping and weeding – not the right material is no maintenance is what you are looking for!
Don't be frightened to mix driveway materials either to create a unique drive, perfect for your property.
Contact Us
Please contact Driveways Glasgow for more information on our driveway services in Kingspark. The company offers FREE estimates, consultation and advice.

LATEST BLOG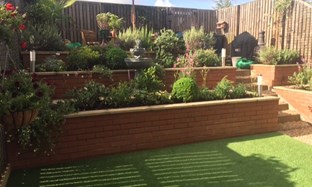 Garden walls can be a great addition to any landscaping project. …

SHOWROOM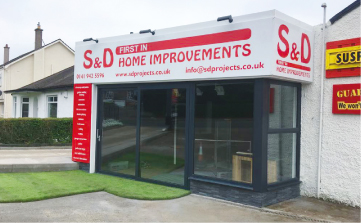 BEARSDEN SHOWROOM