Driveways Hamilton
Driveways Glasgow provide a driveway design and construction service to the Hamilton area.
Driveways – perfect for gravel?
For many homeowners, installing driveways at their Hamilton properties is not something that they do on a frequent basis; it is, after all, a considerable investment of time, effort, planning and money and the idea of such a large-scale project in many cases is to do it once – and to do it well.
Gravel is an often favoured material for driveways at Hamilton properties and, when you see the fine, round pebbles and hear the satisfying crunch under foot and tyre, it is easy to see why people are drawn to this material.
Eco-friendly too!
In this day and age, we are all being told about how important it is that we recycle and generally take a more active role in looking after the environment, both globally and locally.
What has this to do with driveways? Flooding. Localised flooding – where the downpour is more than the drainage of the land can handle – is something that we seem to be hearing more and more of in some parts of the country.
There are various means of stopping or decreasing the likelihood of this happening and one, some experts say, is to do with our gardens and driveways. Hence, gravel with its natural porous abilities, means that any driveways at Hamilton properties made from this material is eco-friendly, allowing rainwater to naturally filter away in to the ground.
DIY or not?
However, many people think that gravel driveways at Hamilton properties is just a case of levelling the ground and spreading some gravel around; this rather crude approach will give you crude results. Within weeks the gravel will have sunk into the mud and you will be left with no driveway.
There is slightly more to the process…
Digging out – like all working driveways at Hamilton properties, they need to have a sturdy foundation on which the top layer can function. Depending on the terrain, the foundation for gravel driveways at Hamilton properties will need to be at least a foot, and level from side-to-side, with a gradient running away from the property.
Weed barrier – before laying any material, a weed barrier will need to be laid that just helps keep the weeds at bay; this is then followed by large pieces of gravel. This layer of gravel is then packed tightly.
Second layer – on top of this, another layer of smaller sized gravel is laid and also compacted. This is a fairly thick layer.
The final layer – this is the aesthetically pleasing layer; either the golden pea-sized gravel that many enjoy or, for example, the dark dramatic layer of almost purple slate.
Gravel driveways at properties can be so pleasing; they offer a porous element to a part of a property that is essential. Is a gravel driveway right for you?
Contact Us
Please contact Driveways Glasgow for more information on our driveway services. The company offers FREE estimates, consultation and advice.

LATEST BLOG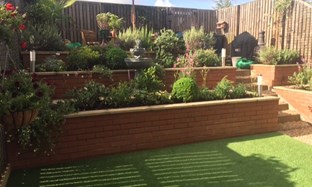 Garden walls can be a great addition to any landscaping project. …

SHOWROOM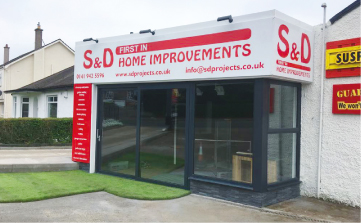 BEARSDEN SHOWROOM