Driveways East Renfrewshire
Driveways Glasgow provide a driveway design and construction service to the East Renfrewshire area.
Accessorising driveways…
… really?! If you are looking at revamping, remodelling or creating a new driveway, you may be surprised to learn that it need not be a bland, boring space onto which you park the car.
In fact, driveways at East Renfrewshire properties are fast becoming an area of outdoor space that is not only beautiful, but functional too – and it can help preserve your local environment too! With so much riding on the driveway, what do you need to consider when creating it?
Rain, rain, come again another day…
Severe downpours can lead to localised flooding. Even though this flash floods are temporary, the destruction they can cause is far from it. But, there is something new beginning to become popular in the UK and so if you have room in your garden, you may want to consider this option.
A rainwater garden has long been popular across the pond but is only just beginning to gain traction here. A rain garden is when a depression is made in the garden, and rainwater is channelled in to it. It's a bit like a pond, with a plug that doesn't fit properly and so over time, the water slowly seeps into the water table below where is should go.
Great for bringing new wildlife into the garden too.
Lights
Adding both security and safety, driveway lighting is somewhat essential these days. But, you don't have to only opt for the excruciatingly bright security lights that flick on when they detect movement.
Ambient lighting is far kinder to the eyes, and just as useful on driveways at East Renfrewshire properties. Some people opt to have them as part of the main power supply, but many other homeowners are recognising the ability to have them powered by solar energy.
Planting
No longer is the trend to have clean, minimalist lines to driveway at East Renfrewshire properties. Landscaped gardens and softening edges with plants are all the rage and this is why planting has become the on-trend way to accessorise the driveway.
Hardy alpine plants add colour, but are robust enough to withstand all kinds of weather and use.
Driveways at East Renfrewshire properties do no need to be boringly functional; they can add even more kerb appeal to your property.
Contact Us
Please contact Driveways Glasgow for more information on our driveway services in East Renfrewshire. The company offers FREE estimates, consultation and advice.

LATEST BLOG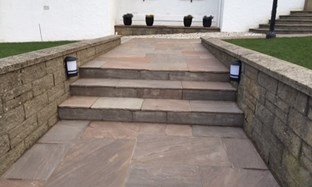 Having a garden that's on different levels is always a bit of a c…

SHOWROOM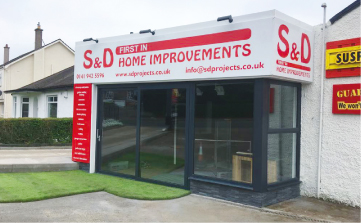 BEARSDEN SHOWROOM