Driveways Carluke
Driveways Glasgow provide a driveway design and construction service to the Carluke area.
Creating architectural statements – modern driveways
You would not automatically link the phrase 'architectural statements' with driveways. It is true to say that in many cases, driveways were functional but lacked any kind of designer flair or creativity.
Normally the last thing to be included at a property, they were rarely statements that were attractive – they were functional, and that was all. Then times started to change and slowly, it was realised that the driveway could not only complement a property but add to it.
And this is where we are today with designs for superior driveways for all properties;
Size – many people choose to utilise all of the front or back outdoor space for a driveway, and this is not necessarily a bad thing. Many people realise that the driveway can be used for some much more than just a place to park or turn the vehicles. It can provide a safe area or the children to play, for example. However, the modern day design thinking is no longer about turning over the whole space over to hard materials, but using planting as a means of creating a green driveway. This suits so many properties!
Shape – driveways still need to be functional and you will need to work with the space you have but, if you can play around with the shape of the driveway, it can bring many welcome benefits. If space is limited, you may be thinking that you need somewhere safe to park the car and the 'reverse on, drive off' straight driveway may be the only available option. Driveways can be u-shaped, with a double entrance (one entry, the other exit) or a clean turning circle space, you will find them so much more convenient.
Materials – there are all kinds of materials that make for a superb top layer, from gravel to cobbles, to concrete, printed and coloured to your own choices. However, in this modern age, you do need to bear in mind rainwater runoff. At one time, it simply washed away in to the main sewers but now, to decrease the possibilities of localised flooding, thought has now turned to encouraging as much of this rain water to seep through in to the natural water table as possible.  Is your new driveway environmentally friendly?
Accessorise – you wouldn't necessarily think of adding ornamentation and accessories to driveways but, it is a possibility with everything from lighting, to electric gates.
Driveways should be a statement – what does your drive say about your property?
Contact Us
Please contact Driveways Glasgow for more information on our services. The company offers FREE estimates, consultation and advice.

LATEST BLOG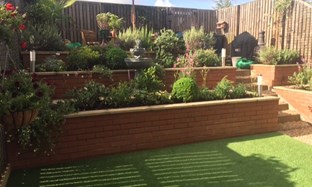 Garden walls can be a great addition to any landscaping project. …

SHOWROOM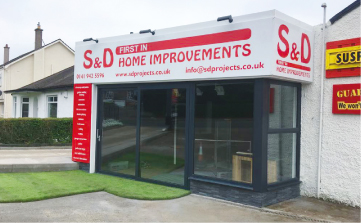 BEARSDEN SHOWROOM