Driveways Cambuslang
Driveways Glasgow provide a driveway design and construction service to the Cambuslang area.
Upgrade your driveway with gravel – and create interest too!
There are many materials on the market today that can be used to create stunning driveways at your property. A leading and popular choice is gravel; when you consider that it is cheap, easy to lay, low maintenance and gives a pleasing final appearance, it is easy to see why. And your choice of gravel is not limited either – gravel comes in all shapes, sizes and colours!
Maintenance of gravel driveways is not as onerous as people think. Many imagine spending whole days on their hands and knees weeding out unwanted plant etc. but this is not the case.
A newly laid gravel driveway will need time to 'bed down'
The properties of gravel driveways are not compromised through the use of spray weed killers or other chemicals which means that maintenance is not an overly onerous task
Sweeping escaped gravel back on to the driveway will also help maintain the coverage you need
Perhaps the largest maintenance task with gravel driveways is that the gravel will need 'topping up' with a fresh layer of stone. This in itself lends versatility to gravel driveways as many customers opt to have different colours or size of gravel added which can create interest and appeal to the driveway.
Choosing the right gravel for your driveway can seem a huge task when you consider the large number of different types, styles and colours on the market today.
As a rule, the cheaper the gravel the less 'refined' or processed it will be. Cheaper versions can look a little 'rough and ready' but as a robust under layer it performs well. The more expensive end of the gravel market means the stone will be a better colour and smoother. As a top layer, this gives a more aesthetically pleasing finish.
As well as gravel, there are also other materials making their way onto the 'gravel' market. Tumbled glass is making an appearance within hard landscaping design across the UK. The use of these types of materials on driveways are not thought to give the same durable and robust performance as gravel but can add areas of interest to the driveway. Currently, they are an expensive material too, making it out of reach for use across the whole of the driveway.
Designs on driveways are possible, but not always successful. Many customers use gravel within a garden setting to create points of interest etc. What many people have found, attempting to emulate these designs on a driveway is not always long lasting – if you are driving vehicles on the driveway then the stones soon become mixed.
There is however, one certainty with gravel driveways - their longevity. With care and attention, gravel driveways will last for decades!
Contact Us
Please contact Driveways Glasgow for more information on our services. The company offers FREE estimates, consultation and advice.

LATEST BLOG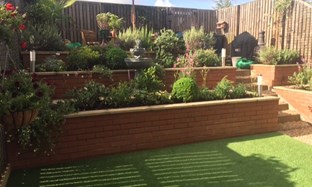 Garden walls can be a great addition to any landscaping project. …

SHOWROOM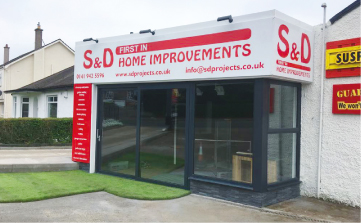 BEARSDEN SHOWROOM