Natural Stone Patios
27 April 2022
Natural stone patios are a great way to add interest and beauty to your home's outdoor space. There are many different types of natural stone to choose from, each with its own unique look and feel.
The most popular types of natural stone for patios include flagstone, slate, and bluestone.
Flagstone is a type of sedimentary rock that is characterized by its flat, layered appearance.
Slate is a type of metamorphic rock that is known for its smooth surface and elegant look.
Bluestone is a type of igneous rock that is prized for its deep blue colour.
You can also choose from materials found regionally around the UK including sandstone, limestone, and granite.
When choosing the right type of stone for your patio, it's important to consider the climate in your area as well as the overall look you are trying to achieve.
For example, bluestone is a popular choice for patios in the UK because it is durable and can withstand extreme weather conditions. If you live in an area with a lot of rainfall, you may want to consider using slate or granite for your patio because they are both very slip-resistant.
Natural stone patios can be customized to suit your individual needs and preferences. Whether you want a rustic patio with flagstone pavers or a sleek and modern patio with bluestone tiles, natural stone offers limitless possibilities.
---

LATEST BLOG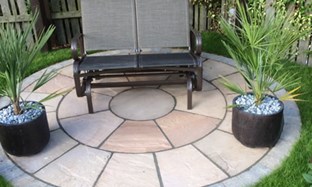 Patios come in all shapes and sizes, and there is no one-size-fit…

SHOWROOM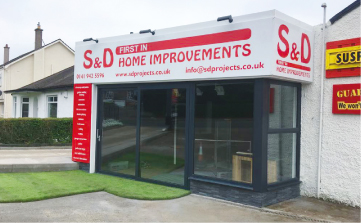 BEARSDEN SHOWROOM