Garden Steps – The Options
28 April 2021
Having a garden that's on different levels is always a bit of a challenge but one of the easiest ways to conquer is to create levels with steps in between.  When it comes to garden steps, the options are extensive and there's something to suit every garden and all budgets.
One of the simplest ways to make garden steps is with paving slabs as part of a path or patio area.  They are easy to install and look smart, simple to clean and coordinate perfectly with other slabbed areas of the garden or a driveway around the front.
Flagstone steps are great if you don't want something too formal for the garden steps.  They allow you to create small level areas into the garden slope without having to make a full garden step system and can accommodate different shapes and changes in direction for a winding stair style.
A simple but effective idea for garden steps is railway sleepers.  These make sturdy wooden steps that can be the whole step or used as the front barrier with something like bark or gravel behind it to create greater depth.
These are just a few of the most popular ways to add garden steps and we can help you find the right one for your garden.  Give us a call today to book a free consultation and we can look at your garden and give you some ideas on how to manage that sloping or multi-level area.
---

LATEST BLOG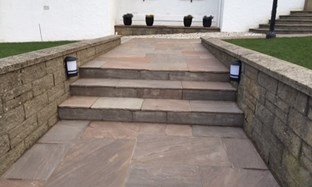 Having a garden that's on different levels is always a bit of a c…

SHOWROOM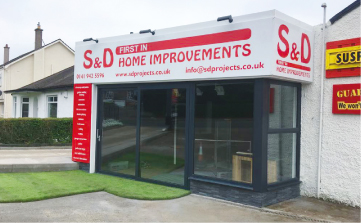 BEARSDEN SHOWROOM